Golf in Swindon
With SwindonWeb's PGA Professional Phil Poulton


Welcome to the SwindonWeb guide to golf in Swindon.

Now, I am not going to pretend that Swindon is the golfing Mecca of the South or that it has golf courses to rival Wentworth, Sunningdale or The Oxfordshire, but Swindon does offer probably the best selection of golf courses to suit all standards of player.
Right from the absolute beginner to the tour professional, Swindon has a golf course for you and the facilities have produced some of the best players in the country; most notably, Ryder Cup star and 2006 PGA Champion David Howell and Martin Sell, 2002 Amateur Championship runner-up.

They both learnt how to play the beautiful game playing the courses around Swindon and are a credit to the golfing facilities the town has to offer.
For the absolute beginner
Pitch & putt courses & driving ranges
You don't need to be Rory McIlroy to enjoy a fun game of golf in and around Swindon.

There are three great pitch and putt courses to try - a 9-hole one at Coate Water (incl. crazy golf), and two 6-hole ones in Highworth.
Add in three covered driving ranges - with floodlights at Broome Manor and Bassett Down - and it's easy to grab a club and hit off a hundred balls without fear of embarrassing yourself.
These are the places you can really get out there and enjoy a proper game in the great outdoors - even when time is very limited.
9-hole golf courses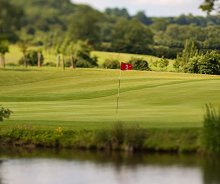 Basset Down, Jnct 16, M4
Part of a golf complex that ranges from an excellent 9-hole golf course extending over 3,080 yards of mature parkland (with more holes to come) to a modern floodlit 20 bay driving range, extensive practice areas to most recently a 12-hole football golf course.
Swindon's original pay-and-play that includes a 9-hole course that presents a very good challenge to even the best players.
Cricklade House Hotel, Cricklade
Offers a pay-and-play 9-hole course that's shorter but still popular with more experienced golfers.
Blunsdon House Hotel, Blunsdon
Boasts its own 9-hole Par 3 course, which has hosted the West Region PGA Par 3 contest in the past.
Needless to say, Wrag Barn in Highworth stands out here as one of the best courses in the region, not just Swindon. Now established for over 25 years, the tree-lined course has matured beautifully with a perfect mix of good length par 4s inbetween picturesque par 3s and not too many par 5s.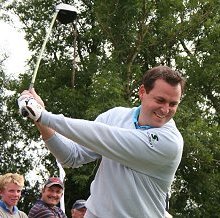 home of golf star David Howell
Broome Manor, Old Town
Open in 1976 and where Tour star David Howell learned his game. Voted the Number One Public Course in the South West of England for the last 5 Years.
Once called Swindon Golf Club and designed by 5-time Open champion James Braid, this undulating 'inland links' isn't everyones cup of tea (especially when the wind blows) but there's no denying it's got some really great golf holes.
One of the oldest in Wiltshire and just down the road from Ogbourne Downs. Another well-established club offering 18, mainly tree-lined, holes with excellent views and sloping greens! David Leadbetter applied to be the Pro here - they turned him down!
The Wiltshire, Royal Wootton Bassett
Designed by Peter Alliss, 9 holes have been added to the original 18 to offer a nice choice of which to combine. Very small greens.
Shrivenham Golf Course, Shrivenham
Another good parkland course, which is celebrating their 50th anniversary this year. Option to play just 9 holes too.
Where you can improve your game in Swindon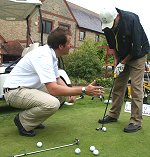 As a PGA Pro I'd always recommend having a golf lesson if you fancy trying golf.
Just getting the grip right and being taught how to stand to the ball can make a massive difference in how you well you can hit it - and, most importantly, the best way to quickly build up your confidence.
PGA Pros know best on equipment too and custom-fitting, so do seek out shops where they offer advice.
Most 18 hole and 9 hole golf courses in Swindon have a resident PGA Professional attached, some with indoor 'flight simulators' and video filming.
But first, a quick lesson on how to improve the most important part of your golf game - putting.

Although putting is never as exciting as swinging a golf club and trying to hit a golf ball as far as you can - I know, I've been there - putting is equally important if you want to score as low as you can and become a better player - no matter your standard.
So, if next time you're on the putting green and you want to avoid missing those apparently easy 3 foot putts, try to follow these three simple rules and watch your scores tumble.
1. Line up your putter and the manufacturer's name on the ball straight at the hole

Putting is 50% confidence. And to be confident that you are aiming straight at the hole on short putts, squat down and line the manufacturer's name on the ball straight at the hole (pictured, left) - and then line your putter in line with that.

2. Take the putter away slowly and on line

Using a ruler to illustrate my point (pictured, left) I have taken the putter away slowly, low to the ground and on-line - very important for short putts. And remember - unless you want to hit the ball way past the hole, don't take the putter too far back.
3. Follow through towards the hole

Don't simply rap the ball towards the hole - stroke it - and make sure the putter follows through towards the hole - the real secret of good putting.
Always try to swing the putter smoothly and
always accelerate the putter through the ball.
Oh yes, and finally - practice makes perfect! The living room carpet makes an excellent practice green!
And for something completely different....
For those who like a bigger ball, may we recommend trying football golf in Swindon!
Great fun for all the family and all ages, and surprisingly effective in encouraging youngsters to try the actual game itself, Basset Down have a 18-hole facility at their golf complex that's proving very popular indeed.
INTERVIEW: David Howell
VIDEO: We talk to the Swindon golf star ahead of this week's PGA Championships...

25 May 2016

Girls Win The Golf!
Junior golfers shine in Deacons Classic at Broome Manor - PHOTOS

04 August 2015

49th For Howell
OPEN GOLF: Birdie finish at St Andrews for Swindon golf star....

20 July 2015

David Howell Interview
VIDEO: We talk golf - and Old Town buses - with the Swindon golf star at the PGA Championships....

19 May 2015

Howell In The Open!
St Andrews major for Swindon golf star after second in South Africa....

01 March 2015

Golf Fun Fore All!
Visitors enjoy trick shot treat at Basset Down Open Day - PICTURES

19 October 2014

Future Ryder Cup Captain?
Swindon's David Howell joins selection committee - all of whom are past captains....

08 October 2014

Howell at Hoylake
UPDATE: Swindon golf star top Englishman at The Open but just misses out on top ten after superb final round 68...

20 July 2014

HUGH BEAUTY!!
Swindon golf star wins the Dunhill Links Trophy & half-a-million pounds first prize! + WHAT'S IN THE BAG VIDEO

29 September 2013

What a shot!!!
Gong-ho David Howell enjoys the luck of the Irish in golf challenge - WATCH VIDEO...

16 August 2010