Tennis in Swindon
It's Wimbledon time again - so dust off your old Dunlop Maxply and Green Flash and get down to your local tennis club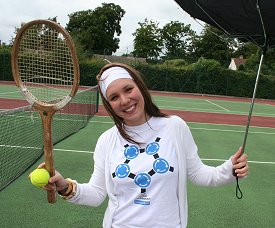 SwindonWeb's smashing guide with our

centre court babe Charlotte Duffin

Are you the next Murray of Moredon, Federer of Ferndale or Wozniacki of Walcot?
Yes, it's Wimbledon time again!
So why not dust off your old Dunlop Maxply and Green Flash and get down to a local tennis club.

Come rain or shine, it's already 15-love with SwindonWeb because we list where you can find all the courts across town (even those with floodlights), plus information on the marvellous facilities at the Delta Tennis Centre and the Next Generation Leisure Club - both fantastic indoor arenas offering covered courts, outside courts and tennis coaching throughout the week.

For those serious about their tennis, we've even put together a court surface key so you now know exactly what you'll be playing on.
Strawberries and cream anyone?
Where to play tennis in Swindon
---
Swindon Community Tennis

The newly improved facilities at St Mark's Recreation Ground make Swindon Community Tennis the ideal place to start.
Featuring resurfaced courts, tennis zone, pavilion and cafe. Smashing!
St Mark's Recreation Ground, Whitehouse Road
Tel: (01793) 520495
---
Chiseldon LTC
Recreation Ground, Norris Close, Chiseldon.
3 Courts (M)
---
Civil Service & NALGO (Swindon) LTC
Penhill Farmhouse, Cricklade Road
Tel: (01793) 721023
1 Court (M)
3 Courts (S)
---
Cricklade LTC
Cricklade Leisure Centre, Swindon, SN6 6JW
Courts: 2 Courts (M) (F)
---
David Lloyd
Latham Road, Blunsdon, Swindon SN25 4TB
Indoor and outdoor multi-surface tennis courts
---
Delta Tennis Centre
Welton Road, Delta Business Park, Swindon, SN5 7XG
Tel: (01793 445555)
3 Indoor Courts (F)
3 Outdoor (M)
St Pauls Drive
Tel: (01793 533763)
5 Courts (M)
---
Goddard Avenue
Goddard Avenue, Old Town
Tel: (01793 445555)
2 Courts (M)
---
Highworth Tennis Club
Highworth Recreation Ground, Highworth
5 Courts (M) (F)
---
Next Generation Club
Kembrey Park, Swindon

6 Indoor
4 Outdoor Tennis Courts over 3 surfaces
---
Purton LTC


The Red House, Purton, Swindon, SN5 9DT


5 Courts (M)
---
Supermarine LTC
Supermarine Sports Ground, Highworth Road, South Marston.
Tel: (01793 824828).


2 Courts (M)
---
Town Gardens
Quarry Rd, Old Town
Tel: (01793) 445555
---
Wanborough LTC
Hoopers Field, Rotten Row, Wanborough


2 Courts (M)
---
Court Surface Key:
M = Macadam, F = Floodlit, I = Indoor, G = Grass, A = Acrylic,
S = Shale, AG = Artificial Grass