Ashes Star Adam Gilchrist in Swindon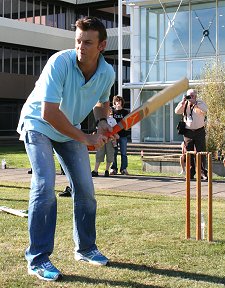 No bouncers, please!:

Australian cricket star
Adam Gilchrist gets in some batting practice
Ashes star Adam Gilchrist visited Swindon today to swap the ferocious pace of the England attack for bowling of a more sedate kind.

The Aussie cricketer was taking time out from the pulsating Test series to make a guest appearance at the Old Town offices of Castrol, his sponsors.

There he spent the afternoon meeting senior executives, taking part in a question-and-answer session with staff, signing autographs - and also getting in a bit of batting practice.

And, as you would expect from a largely partisan (if very friendly) audience, most of the questions aimed at the record-breaking wicketkeeper and batsman concentrated on the Ashes series and the deciding test coming up in a weeks time.

"It's been an extraordinary cricket series to be involved in," the 32-year-old said, "and it ain't over yet!"

"England have played themselves into a winning position, and so far they have definitely been the better team. But we can still retain the Ashes if we win the last one at the Oval."

"It's going to be one hell of a match - that's guaranteed. And everyone is looking forward to it. This summer's series has lived up to all the the hype and I don't think anyone is going to be disappointed with the final test.....

"Except maybe you guys when you lose it!" Gilchrist added cheekily.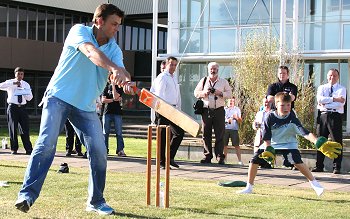 Howzatt!:

Gilchrist 'edges' one to the wicketkeeper

Away from the hot topic of the day, the Test star also went on to describe a number of his other experiences in first class cricket - with his role as a Castrol Brand Ambassador in India surprisingly providing him with more fame than he can possibly handle.

"Cricket there is bigger than any sport, and cricketers get treated almost like rock-stars," he said.

"Television audiences for Test matches and one-day game can top 100 million, so if I go out on the streets I get completely swamped! It's completely amazing. Bizarre. And some times a bit scary.

"Everyone wants a piece of you and for other players like Shane Warne the experience is ten-fold. At least in England it's a little more laid back."

That was self-evident in the relaxed manner in which Gilchrist then spent the last hour of his trip enjoying some batting and bowling with a number of the Castrol staff's children.


Kids' play:

Gilchrist gives a bowling lesson 'Shane Warne'-style

"There's some real potential here," he said as he faced some 'fast' bowling on a make-shift wicket.

"I'm glad it's only a tennis ball they're using. They're all so determined to get me out, it's like facing Freddie Flintoff!"

The fifth and final Ashes test, sponsored by Npower (coincidently another Swindon-based company) starts on 8 September.