MontyPanesar puts stars of the future in a spin
England cricketing star Monty Panesar has shared his spin-bowling secrets with a lucky group of Swindon's most promising young cricketers.

At a specially arranged spin-bowling master-class at the Croft Sports Centre on Tuesday this week, the left-arm wizard passed on the tips and tricks that he hopes will challenge the Australians next month when England set out to defend the Ashes.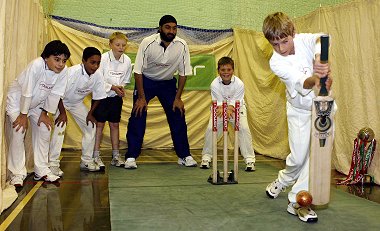 Ashes warm-up in Swindon:


Panesar enjoying a spot of slip practice

In all, twenty youngsters from schools across Swindon and Wiltshire were put through their paces by the 24-year-old googly expert, courtesy of domestic Test Cricket sponsors npower and Swindon Borough Council.

"npower coaching sessions like these are a great idea," said Paneasar, "and I'm delighted to be here in Swindon supporting grass roots cricket in this area."

"This type of initiative is so important to do because the future of the England side is built on that strength and I think it's fantastic that npower can give these youngsters a chance to become a part of that."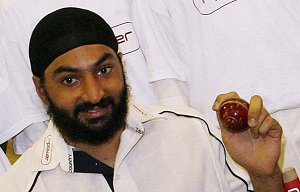 Spin-meister:


Monty Panesar

Paneasar, who spent over two hours coaching the kids, also took time out to praise Swindon cricketer and England Champion's Trophy seamer Jon Lewis.

"He's a great bowler," Monty said, "and a really nice guy."

"On form, he's one of the best seamers in the world, and I always enjoy playing alongside him."

The first Ashes test starts in Brisbane on 23 November.