Lewis proves his worth in Test debut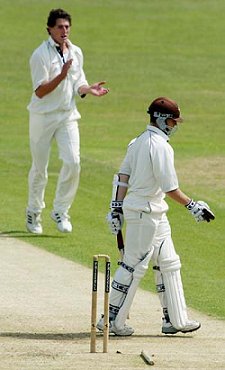 More of the same, please:

Jon Lewis takes
a
wicket for Gloucestershire in the County
It's not been a bad old week for sport in Swindon.

It started with David Howell's emphatic win at the PGA Championship in Wentworth, and has culminated in what looks set to be a hugely successful Corporate Games.

And in the middle of it all, standing 15ft tall on a lorry-sized monitor at Lydiard Park, was Swindon's cricketer Jon Lewis, enjoying his England test debut.
Lewis was selected for the squad to face Sri Lanka early last month but narrowly missed out on the action.

However it wasn't long before he got his chance, the Swindon-born seam bowler earning his test debut in the third test at Trent Bridge.

Lewis was presented with his cap by England Captain and 2005 Sports Person of the Year Freddie Flintoff before play began.
And the thirty year-old Gloucestershire star - who was last seen dancing the Amarillo while switching on the Old Town Christmas Lights - showed few signs of nerves, claiming three wickets in a solid England performance.



Good day's work:


only England superstar Freddie Flintoff outshone
Swindon's best on the first day

It was a shaky start for Lewis beginning with a no-ball, but he soon got into the groove, bowling out Sri Lanka's opening batsman Michael Vandort in his first over.

And a further two wickets were to follow, with Dilshan and Maligna being caught by Flintoff and Pieterson respectively from Lewis balls.
On the day that the England selectors picked Lewis to 'have a look at him', they can only have been impressed by what they saw.

His selection acknowledges an impressive start to the season by the Gloucestershire captain and former Swindon schoolboy.

And claiming three wickets in his debut certainly won't do his chances for regular selection any harm, with a winter date with the Aussies very much on the horizon.

"I am not just an early season bowler in England," said Lewis of his prospects beyond the Sri Lanka series.

"I was very close to making the Ashes. If I'd played a touch better in the one-day series and held my place in the side I might have pushed for the test squad."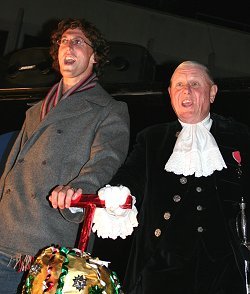 Doing the Amarillo:

Jon Lewis switching on the
Old Town Christmas lights last year
He added, "At the end of last season the selectors told me they felt I did not have enough pace to go to the sub-continent.

"But I feel I can do a job anywhere. I'm happy bowling in any conditions. There are spaces up for grabs and I'm looking to push my claims.

"At 30, I've got two or three seasons left in international cricket and maybe 5 or 6 in county cricket," he said.

And after that, a career as a Tony Christie backing dancer surely beckons following Lewis' performance in Wood St last December.

Altogether now, "Na-na-na, na-na-na-na-NA!"