Scrappers Gym
Getting fit in Swindon. We visit Scrappers Gym in Westmead, run by volunteers and open to people of all ages and abilities.
Where:
Westmead Industrial Estate, Swindon (near Lighting Bug)
Who can train there:
any age over 13, any ability
How much:
no membership. £2 per session.
Opening Times:
Tuesday 10am – 4pm, Tuesday and Thursday Evenings 7pm – 8.30pm.
Scrappers Gym is a community fitness centre open to all members of the community aged 13 to 100 located above the Swindon Scrapstore in West Swindon.

The gym is led by former ABA Boxing Champion 'Paul Rogers' and twice British kickboxing champion 'Andy Brown' aided by qualified trainer, Kenny - all who volunteer.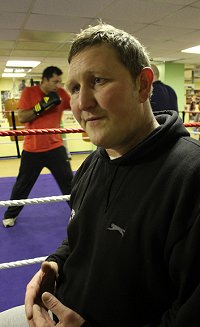 Paul Rogers, Scrappers Gym
"We use boxing equipment as a way of staying in shape and to help people acquire the discipline to learn a sport and the social skills of working together and learning from each other," says Paul.
See our SWTV video above.
All ages, all abilities welcome.
The gym has a large amount of space and equipment to use for individuals or groups of people to participate in Boxing, Kickboxing, Aikido and Mixed Martial Arts.

People can drop in and train or take part in structured classes for only £2 per session and learn from qualified trainers.
For more information, contact:
George Groves in Swindon
World Title Contender packs a punch at The Sun in aid of Sebastian Murtough - PHOTOS + SWTV INTERVIEW

01 March 2014

Bam Bam v The Menace
Swindon grudge fight tops the bill at white collar boxing at MECA - WIN VIP TICKETS