Date added: 05 March 2014
Lord of the Pies!
Rafus tikka chance on British Pie Week with a unique creation - the Jalfreizi!
With British Pie Week taking place from 03-09 March, the Curry Kings at Rafus have got their thinking caps on.
And just look what they've come up with - the Jalfrezi!
Now available exclusively at
Rufus Tandoori Corner in Shrivenham
, the new dish is the brainchild of Omar Miah, who's father Rafus and uncle Safu first opened their Indian restaurants in Swindon over 30 years ago.

"People love our classic curries here at Rafus," Omar told us, "but it's always good to come up with something new - and here it is.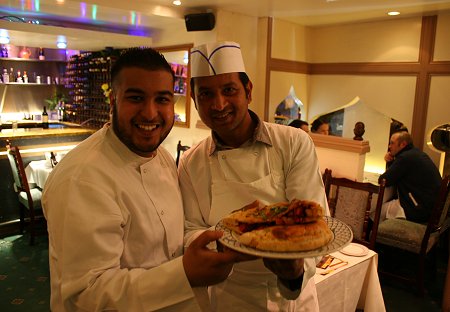 Omar Miah (l) and the head chef at Rafus Tandoori Corner in Shrivenham
"This one is a Jalfrezi pie but we can make a pie from any of our dishes - korma, bhuna or vindaloo - depending on your taste.
"We use our naan breads for the casing and then bake it in a special Rafus' way.
"And to say they've been popular would be an understatement! At £10.95, they've gone down very well indeed."
For your chance to win a table for two to try a Rafus Tandoori Pie in Shrivenham plus drinks to the value of £40, just answer the simple question below:
Which of the following pie puns is NOT based on
1. The Pie Who Loved Me
2. Live and Let Pie
3. Get Rich Or Pie Dying