Win A Meal at The Royal Oak Bishopstone
Be the first to taste their new season organic lamb - 16 JULY - ENTER HERE
The Michelin-rated Royal Oak at Bishopstone is run by Helen Browning's Organic, who produce award-winning pork, beef & veal on their Eastbrook farm just a stone's throw away.
And this summer it's a special cause for celebration because Helen's daughter, Sophie, is just reaching the point where her first crop of organic lambs from Eastbrook are ready to be added to the pub menu.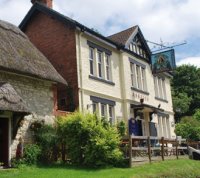 The Royal Oak in Bishopstone
And you're invited to join them on
Wednesday 16 July
for the first tasting.
It's priced at £25 per head for two courses of food, with 40 places available.

There will also be a free prize draw for two whole legs of lamb for two people who come along that evening.
For further details please visit The Royal Oak in Bishopstone website via the link at the bottom of the page.
WIN A TWO COURSE MEAL FOR 2!
For the chance for two people to enjoy the first tasting of their organic lamb on
16 July
just answer the simple question below.
What relation is Sophie Stoye to Helen Browning?
1. Mother
2. Sister
3. Daughter
Eating Out Guide
Italian restaurant in Swindon? Chinese, perhaps? A quick bite at lunch-time? Or Sunday lunch? FULL GUIDE