Butterfly World Is Well Worth a Flutter
SwindonWeb's Mum About Town checks out Butterfly World at Studley Grange
Review by Kelly Jobanputra
So the weather was looking a bit bleak and my hyper yet love-able three year old was in need of some entertainment. Well as Mya's current big interest seems to be all creatures great and small, trying out Butterfly World in Swindon's Studley Grange seemed like the perfect idea.

Hosting around thirty species of butterfly - and an array of animals including reptiles, guinea pigs and meerkats - this has proven to be quite a popular tourist attraction since it opened eleven years ago.

But, with my little mate by my side, I wanted to see for myself if it was as good as I heard it was. (By the way - Grandma came as well in order to ensure three generations could contribute to this review!)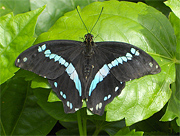 One of the many amazing
Butterflies at Butterfly
World, Studley Grange
From the minute we walked through the plastic flaps to start our look around, we were part of a mini tropical paradise. Hundreds of butterflies were gliding around us, as fish swam in the ponds beneath us. Wonderful colourful and attractive plants were everywhere you looked as you instantly felt the warmer climate that was needed for this habitat.
Not long after we got through the doors, we were greeted by Phil Noon - who is the full time Butterfly Keeper at this hidden gem of a Wiltshire place.

He wanted to be our tour guide, which we appreciated, and was so proud of his place of work that it was instantly infectious.

We heard about how people from all over the world come to visit this attraction, which is looking to expand even further in February next year. The idea for that is to add more to the farm area, including tractor rides and extra animals.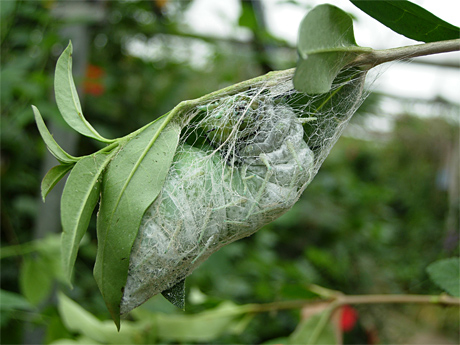 An Atlas Moth caterpillar spins its cocoon at Butterfly World, Studley Grange

But the thing that people who have never visited Butterfly World don't seem to realise, is that this place is so much more than it says on the tin.

It's a chance to get up close to nature whilst being educated at the same time. And it's also an opportunity to meet a true star in the animal kingdom - George the rather large Tortoise!

Now George really does deserve his own paragraph of this review because he is quite simply epic. His escapes from Butterfly World are legendary and it's not uncommon for people from the adjoining craft village to muck in and make sure he gets back to his rightful home. George is a friendly fella and doesn't mind a stroke of the head and neck. He's also not shy in coming forward as he regularly blocks your path when he slowly makes his way around his expansive home.

Another animal that has to get a special mention is Princess the goose (AKA Onion). Phil looks after the geese as well as his butterflies and Princess relentlessly screeched when he walked past until he went in her pen and literally gave her a cuddle. I kid you not! Apparently she is a bit possessive of Phil though so you might want to watch out!

All of this activity, coupled with feeding and petting times, makes this place an absolute winner for children and adults of all ages.

I will definitely be going back there again. Mya already asked me when by the time we had got to the car.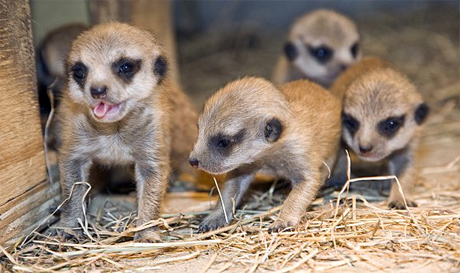 Playful young Meerkats at Butterfly World, Studley Grange
Studley Grange Craft Village & Butterfly World
Hay Lane, Wroughton, Swindon
Get creative at Studley Grange Craft Village, where there's loads to do and see! So much so, we've even launched our own online TV Channel to show you what there is on offer and how you can join in the fun yourself whether you're 8 or 80!
Meet The Meerkats!
Studley Grange welcomes 4 Meerkat pups into the fold, and SwindonWebTV went along to meet them - WATCH VIDEO

Meet The Chickens!
Studley Grange has some new feathery residents, and you're invited to come along and meet them! Eggscellent! - WATCH VIDEO