Date added: 20 January 2015
From Field To Plate
You often hear the term 'ingredients found on the door step' and one chef in Fairford is taking it really quite literally!
Most chefs hark on about using local ingredients, but how about from the field next door via the butcher over the road.
This is the case for Jamie Woods, chef at The Bull Hotel in Fairford.
Fairford beef is now on the menu thanks to local farmer Tom Payton and the town's butcher - Andrew Butler.
Tom Payton whose family have been farming at Milton Farm in Fairford for 40 years explains why Fairford Beef tastes so good.
"The cows are a mix of traditional British breeds, Angus, Hereford and Shorthorn, and are grazed on the meadows of the river Coln," Tom says.
"The meadows are in a stewardship scheme which means they receive no artificial fertiliser and are treated to enhance the habitat for wildlife and the health of the river rather than solely for production. The cows are served by an Aberdeen Angus bull in June and July to give birth in March and April.
"After a summer with their mothers and a winter indoors they have a final summer grazing before going to the Butchers at 18 to 24 months old."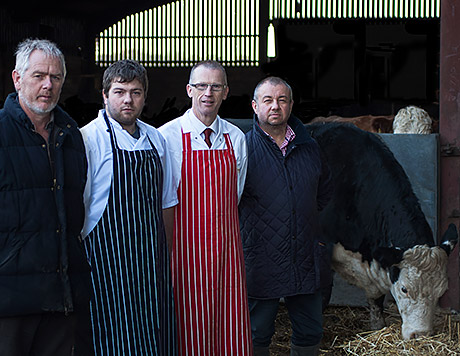 Tom Payton, Jamie Woods, Andrew Butler & Ian Summers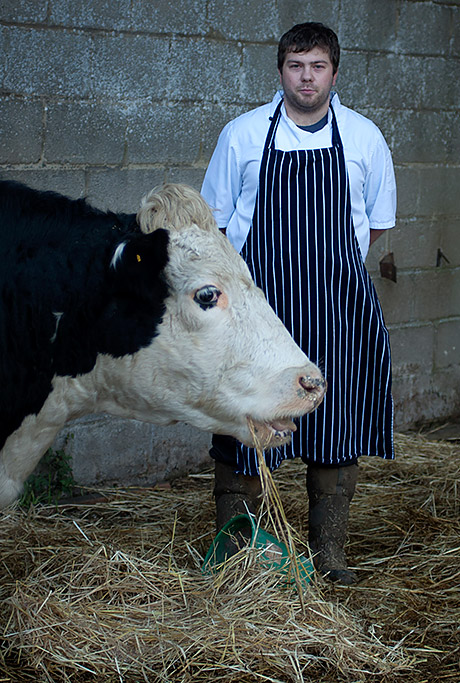 Chef Jamie Woods
The beef is only available via Fairford's butcher Andrew Butler.
Anything that does not go to him goes to market with Tom, but it is at the butchers it gets the attention.
"It's part of that Cotswold experience," Andrew added.
"We have some fabulous suppliers around but this beef is something special. We mature it for 28 days before passing it on to Jamie at the Bull. No food miles or CO2 footprint here, my team just walk over the market place to the Bull."
"Jamie and Ian Summers have become more interested in where their meat comes from and how to use it sustainably and so we have been supplying them with Beef and other locally sourced meats."
What's for sure, the quality and availability of the beef has given Chef Jamie plenty of inspiration for his autumn, winter and spring menus.
"We currently have it on in four forms and are looking at other unusual ideas," Ian said.
"Jamie has created a homemade corned beef hash with his own homemade brown sauce which is going down really well with the regulars. People also love our roast beef on a Sunday.
"For us it is also about being sustainable with the animal so we look at recipes which use less well known cuts, typically use much slower cooking techniques and are packed with flavour."
Celebration of Fairford food
The Bull Hotel are also working on a Celebration of Fairford Beef evening that will have some of Jamie's ideas on the menu for its guests.
"I actually want to do some quite classical dishes with a modern slant," he explained, "We want to showcase Fairford beef and its fantastic flavour."
Win A Meal For 2


For your chance to savour the flavour of The Bull's locally sourced steak, please answer the simple question below. The winner will win a steak meal for two to the value of £40.00.
Which of the following is not a traditional cut of steak?
1. Fillet
2. Sirloin
3. Breast
Eating Out - WHAT'S NEW
Our regular look at what's fresh on the menu in Swindon - offers, new places, reviews, events and more...

Eating Out Guide
Italian restaurant in Swindon? Chinese, perhaps? A quick bite at lunch-time? Or Sunday lunch? FULL GUIDE