Learn To Swim In Swindon
With double Olympian and Commonwealth Games medalist Adam Faulkner
We've teamed up again with swimming star Adam Faulkner at the Wanborough Swim School to offer the chance to win a FREE child's place on one of his week-long Easter Intensive Swim Courses.

The prize is worth £49.

The lessons will take place at Adam's Wanborough Swim School just 2 minutes from GWH.
Just enter below for your chance to win.
WATCH VIDEO: UK Swim Academy - Wanborough Swim School
- A private swimming pool set in 5 acres of beautiful tranquil grounds

- A MAX group size of 6 in a class

- There is only ONE group in the swimming pool at any one time

- The pool is kept at a perfect 32 degrees and air temperature at 34 degrees

- A dedicated coffee / lounge area to relax in before or after your swimming session

- Offering both baby swim classes (From 2 months old) through to children who are looking to work on their stroke technique and endurance
About Adam Faulkner and the UK Swim School
Swimming, believe it or not, is the UK's most popular participation sport.
And in Swindon it's becoming more and more popular following the opening of the UK Swim Academy's Wanborough Swim School in April of last year.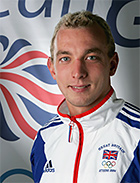 Founded by Double Olympian and Commonwealth Games medalist Adam Faulkner, the private pool is just a short drive from Swindon and is set within picturesque grounds that provide an amazing setting for swimming lessons for both children (4 weeks and above) and adults.
Adam finished his professional swimming career in 2004 and embarked on a new adventure with the Royal Air Force in 2005, flying the C130J Hercules.
But his true passion has always remained in the pool, and Adam's new venture aims to reinvigorate the sport in Swindon as well as inspire the next generation of swimmers.
"The UK Swim Academy was set up to inspire the future Olympians of tomorrow into the sport I have done since I can remember, Adam said.
"As I believe swimming is such an essential skill, especially for children, who can LEARN and have FUN at the same time."
Adam and his team of experienced coaches provide lessons for adults and children all year round, in either small groups or on a more personal one-to-one basis.
The UK Swim Academy is also a firm supporter of the Aiming High programme which provides access for children and young people with disabilities to social and leisure activities.
All lessons typically last around 30 minutes, with sessions tailored to suit you.
"We even have our own awards scheme consisting of Starfish, Dolphins and Shark certificates which tie in to the ASA Learn to Swim Programmes," Adam added.
During holiday periods the Academy will even run Intensive learn to Swim weeks.
And for those more advanced, Adam and his team can also offer swimming training for triathletes, performance coaching, video stroke analysis and Olympic swim camps.
Win An Easter Intensive Swim Course!
Adam Faulkner and the Wanborough Swim School have kindly offered SwindonWeb readers the chance to win a FREE child's place on one of his week long Easter Intensive Swim Courses. To stand a chance of winning this fabulous prize, just answer the following simple question:
Q: Where are the Olympics being held this year?
a. London
b. Rio
c. Swindon