Date added: 10 March 2015
Rack 'Em Up!
New storage system in Swindon keeps your bike safe and secure...


WATCH VIDEO: How To Use Multi-Level Bike Racks
If you regularly commute to and from work on a bike, you'll be well aware of the need for safe storage for your two-wheeled transport.
And with an increasing number of bikes on our roads, it's becoming harder and harder to find.
Swindon Travel Choices and Sustrans, however, are helping to ease the load.
Coming to a location near you
Recently installed for employees at Zurich, the ingenious 2-tier bike racks will be rolling out to venues across Swindon and Wiltshire in the coming months.
Easy to use, and taking the space of just a couple of parked cars, each rack can hold an impressive 40 bikes at maximum capacity.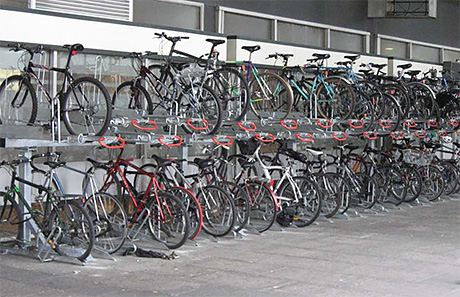 An example of a 2-tier bike rack in operation
Light Up Swindon
With the nights closing in fast, Swindon Travel Choices is highlighting the need for effective lighting on your bike - WATCH VIDEO

Cycling in Swindon
Bikes at the ready! This guide tells you everything you need to know about cycling around Swindon...