Date added: 04 August 2015
Girls Win The Golf!
Junior golfers shined at Broome Manor today as players from ages five to seventeen took part in the Deacons Jewellers Junior Classic
The overall winner was Alexandra Sadler, who took home the prestigious Deacons Jewellers trophy after a scoring a net 66.

Ms Sadler just pipped Jake Bolton who recorded a superb gross 67 to also win the Boys' prize.

Other winners included:

Cubs - Grace Hayward
Tigers - Louis Smith
Super Tigers - Macklin Hawkins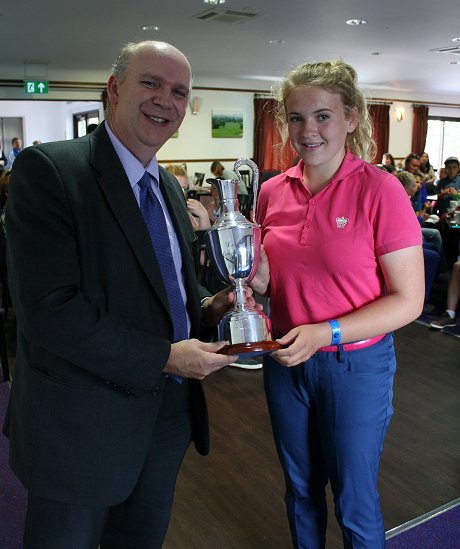 2015 Deacons Junior Champion
Broome Manor Golf Club, Swindon
04 August 2015
INTERVIEW: David Howell
VIDEO: We talk to the Swindon golf star ahead of this week's PGA Championships...

25 May 2016

49th For Howell
OPEN GOLF: Birdie finish at St Andrews for Swindon golf star....

20 July 2015

David Howell Interview
VIDEO: We talk golf - and Old Town buses - with the Swindon golf star at the PGA Championships....

19 May 2015

Howell In The Open!
St Andrews major for Swindon golf star after second in South Africa....

01 March 2015

Future Ryder Cup Captain?
Swindon's David Howell joins selection committee - all of whom are past captains....

08 October 2014

Howell at Hoylake
UPDATE: Swindon golf star top Englishman at The Open but just misses out on top ten after superb final round 68...

20 July 2014

Golf in Swindon
Beginner or Tour Pro, get in the swing with our Swindon golf guide...

HUGH BEAUTY!!
Swindon golf star wins the Dunhill Links Trophy & half-a-million pounds first prize! + WHAT'S IN THE BAG VIDEO

29 September 2013

David Howell Interview
SWTV speaks to the Swindon golf star ahead of this week's Ryder Cup - WATCH VIDEO

21 September 2012