Date added: 12 August 2015
Running On Cloud Nine
Coate Water 5k shows how far new runners have come
Wednesday evening saw nearly 50 people who had never dreamt of running regularly take part in their first competitive race ever since the much-dreaded cross country event from their school days.
The 5km race, at Coate Water Country Park, was the culmination of their commitment and much-improved fitness, having taken part in a new council-run initiative which teaches people to run from scratch.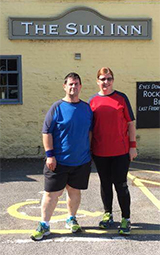 Paul and Kim Williams joined the group to bolster their Slimming World efforts and take them one step further on their impressive weight-loss journey. The results are simply stunning - the couple have collectively shed nearly 14 stone and now go out running together three times a week as part of their new healthy routine.
Paul, aged 52, who works as a business development manager, said: "We did a fun run in May but ended up walking most of the way. Joining this group has given us the skills and confidence to do it properly and we feel fantastic. Our health kick started two years ago and this, combined with the nutritional support from our Slimming World consultant Steve Ireland, has helped take us to the next level. I'm down to 17 stone now, having been 22 at my peak. In hindsight I can see how I had slipped into very sedentary, unhealthy habits which needed a real shake-up."
In addition to incorporating more physical exercise into their daily routine, they totally transformed their diet – focusing on fresh fruit and vegetables with lean meat, whilst also cutting out alcohol and saving things like chocolate and cake for treats.
He said: "I do all the cooking and it's amazing the variety and quantity of healthy food you're free to eat. I make anything from stir fry to cottage pie and it all tastes great. We don't feel hungry, so we've got the energy to throw ourselves into activities like running. Doing it together, and being part of a friendly group, has been brilliant fun and also kept up our motivation."
Mum-of-two Kim, aged 47, is equally enthusiastic and can scarcely believe how active she has become since they started shedding the pounds. To date she has lost 8stone 9lbs and the weight is still coming off, thanks to their healthy diet and running routine.
Kim said: "I've never run before. Even at school it was a struggle and I hated cross country with a passion. So I was nervous at first and must admit I didn't think I could do it. But you start with the absolute basics and build up gradually. If you said to me last year I'd be able to run 5km without stopping, I'd have laughed. But now I really can and it's such a wonderful feeling after all these years."
Besides feeling on top of the world and having good reason to revamp her wardrobe, Kim's overall health has also improved.
She said: "I hardly get ill these days. I feel like a completely different person, whereas before it was like a vicious circle – my weight meant exercising was difficult, so I became more depressed and ate the wrong things. I'm eating more now than I ever have – but it's the right stuff and tastes pretty good too."
The beginners running group started 10 weeks ago and was led by Steve Goulding, who also runs the weekly running group Swindon Shin Splints.
SWTV: Swindon Shin Splints Running Group
June 2012
Parkrun is another free running group which meets on Saturdays at 9am at Lydiard Park. Everyone is welcome and gets a timed 5km run. For more information visit
www.parkrun.org.uk/swindon
Running Events
Set yourself an achievable target - list of Swindon fun runs, 10Ks and half-marathons...

Swindon Half-Marathon CANCELLED
2015 looking like the final year after crowd funding falls flat. Only £2,250 raised towards £27K target....

12 September 2016

Swindon Half-Marathon 2014
Well done to everyone who took part in Swindon's biggest sporting event today! - 130+ GALLERY

12 October 2014

Running In the Rain!
Our 150+ gallery from today's Swindon Half-Marathon 13 October 2013 - SEE PICTURES

13 October 2013

Running in Swindon
Our guide for fun runners and those more Seb Coe! - CLUBS, EVENTS, FOOTWEAR, TRAINING TIPS and more...

RUNNING: How To Avoid Injury
Swindon Chiropractic Clinic's full guide on how to avoid injury when running incl. shin splints explanation - WATCH VIDEO

Mad March Hares
Hundreds join in fun run and 10K at Lydiard Park - SEE GALLERY...

07 March 2010