Date added: 23 October 2015
Sky High Start For New Chiropractor
Newly-qualified practitioner helps young climber reach lofty ambitions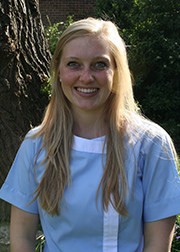 Sophie Pakenham
Swindon Chiropractic Clinic
Swindon Chiropractic Clinic recently welcomed Sophie Pakenham as a new member of their team at their Stratton Practice.
Sophie, who grew up in Wiltshire, started work at the clinic as a receptionist after becoming interested in chiropractic at the age of 13.
Having suffered an injury during trampoline training, she came to see first hand how chiropractic can change peoples lives for the better.

And now after fully qualifying as practitioner, Sophie has got straight down to business doing what she does best - keeping people moving.

Mountain climber Ben Maxfield was suffering from severe restriction of movement in his right shoulder, before a planned ascent last week.
But after two intensive sessions of chiropractic therapy with Sophie, Ben was sufficiently confident to go ahead with the climb - and complete it.
"There is absolutely no way I could've climbed on Wednesday if it hadn't have been for the assessment and work that Sophie did on
me, not to mention the constant advice on what I should be doing before and after climbs," Ben commented.
"I was delighted to help," Sophie said, "and although the majority of our patients aren't rock climbers, it was nice to see the treatment & advice have such an immediate effect."
About Swindon Chiropractic Clinic
Swindon Chiropractic Clinic have treated over 28,000 people since opening in 1982. They offer a safe, effective hands-on treatment which gets straight to the cause of the pain.
Revising For Exams?
Take proper care of yourself with these top tips from Swindon Chiropractic Clinic...

23 May 2017

New Year, New You!
Thinking of a diet and exercise this January? Swindon Chiropractic Clinic has some excellent advice...

06 January 2017

Text Neck!
Is your mobile becoming a pain in the neck? James Forrester-Wood from Swindon Chiropractic Clinic has some helpful advice - WATCH VIDEO

Frozen Shoulder?
This man can keep you moving! Let James at Swindon Chiro sort out those winter aches and pains - VIDEO

24 November 2015