Date added: 15 October 2017
Cox Shows What He's Made Of
Swindon-boxer denied world title in epic four rounds at Wembley
If anyone in the boxing world was wondering if Swindon fighter Jamie Cox could perform on the biggest stage, there were certainly no doubting him after this - an explosive attempt to prise the WBA Super-Middleweight title from George Groves.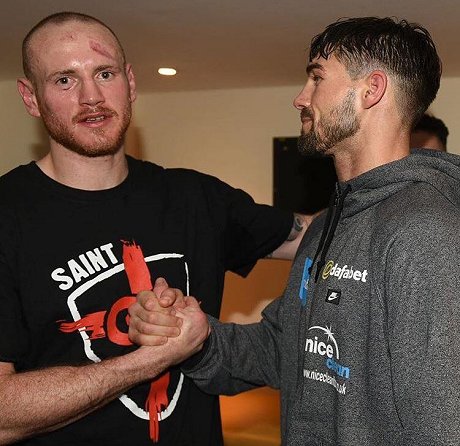 bruised WBA Super-Middleweight champion George Groves (l) shakes hands with Swindon's Jamie Cox after their world title clash
At the Wembley Arena, underdog Cox took on the reigning champion for one of the biggest prizes in the noble art - and in many experts eyes was ahead when he succumbed to a devasting body blow from Groves in the fourth round.
The punch completely winded the undefeated Walcot southpaw and the referee counted him out, as the reigning champion looked on more than relieved that the World Series bout was at an end.
"I didn't want an easy fight,"
Groves said. And Cox certainly didn't give him one.
From the start, Cox took his chance at redemption for 10 years of injury and out of the ring problems, to pose serious questions of Groves, who got caught by the Swindon fighter's hooks and big left hand more than once.
But just as Cox was growing in confidence, the heavier Groves made him pay when he produced the punch of the night right in to Cox's solar plexus and it was all over in a second.
"Respect to George Groves," Cox, who was magnanimous in defeat, said.
"He boxed a very smart fight but I feel fine. It was a good shot and I wasn't expecting it.

"Thank you to the WBSS, Eddie Hearn, my team and friends & family.I didn't expect the support I had.
"I'm just a regular lad working hard to win a world title. It will come."

Groves will now fight Chris Eubank Jnr in the semi-final of the World Series in the new year.
Jamie Cox is expected to discuss his options with his manager Eddie Hearns, with another high profile fight expected to be announced soon.
Jamie Takes His Chance
World Title fight now beckons after Cox blasts his way to WBO European title - INTERVIEW

24 July 2015

George Groves in Swindon
World Title Contender packs a punch at The Sun in aid of Sebastian Murtough - PHOTOS + SWTV INTERVIEW

01 March 2014

Ready To Rumble!
Cox & Royer come face-to-face ahead of this weekend's big Oasis clash...

14 June 2013

Cox Comeback
Swindon boxer ready for ring return at Oasis on 15 JUNE - SWTV INTERVIEW + PRESS CONFERENCE

12 April 2013

Ant & Dec-ked!
TV stars and former world-champs enjoy white collar boxing at MECA - SEE GALLERY

03 May 2012

Bam Bam v The Menace
Swindon grudge fight tops the bill at white collar boxing at MECA - WIN VIP TICKETS

Festive Knockout!
Boxing day comes early at MECA Swindon - REPORT & GALLERY...

17 December 2011

Knock-out success
White Collar Boxing evening raises money for charity...

19 October 2009

Fancy some?
We grab a word with boxing legend Nigel Benn in Swindon on fights - and faith.... watch interview...

Ready to rumble
We interview Jamie Cox and Marlon Reid before tomorrow's fight at the Oasis...

Cox on target
Swindon boxing star tells SwindonWeb he's ready to step up after easy win...

Jamie Cox
Swindon's gold medal-winning boxing hero...