Date added: 24 August 2010
Fat Dog Re-Opens
Bank Holiday re-opening for Shrivenham restaurant - WIN A MEAL FOR TWO

'Food is exciting and eating out should be fun' is the new philosophy at The Fat Dog restaurant, which re-opens this weekend.
Now under new management and with well-known Wiltshire chef Jim McKenzie in the kitchen, the promise is for delicious, freshly prepared food, with exciting and vibrant combinations - and great service.
"The surroundings here are perfect for the type of top-quality food we want to offer," commented Rachel Mackenzie, one of the partners who purchased the restaurant earlier this year
"But good service, as well as excellent cuisine, is the key to making any dining-out experience really special, and we aim to build our reputation on that from day one."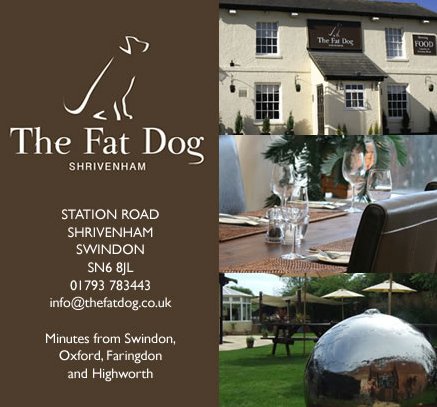 An emphasis on good quality wines to match the food at realistic prices is also seen as a priority.

"Too often, wine is far too expensive when eating out. We aim to change that by offering superior wines without a lage price tag, often round the £20.00 mark," Rachel added.

The Fat Dog, which is situated on the Lambourn road, just a mile outside Shrivenham, will officially open its doors on Saturday, with bookings now being taken for the rest of the Bank Holiday weekend.

Details of special offers and what's on offer are available via The Fat Dog website, link below.
SwindonWeb have teamed up with The Fat Dog restaurant
to offer the following superb prize.
THREE-COURSE DINNER FOR TWO
Just answer the simple question below for your chance to win.
Which of the following is a celebrity chef?
Eating Out Guide
Italian restaurant in Swindon? Chinese, perhaps? A quick bite at lunch-time? Or Sunday lunch?...