Swindon 4 Arsenal 3
We chronicle Swindon's greatest night at the County Ground
including a SwindonWebTV interview with Town goal hero Andy Rowland
What is it about Swindon and Arsenal?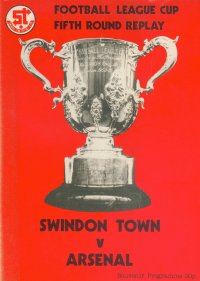 The fates of the little Wiltshire team and the London giants seem to coincide every now and then - and if the word 'giantkiller' is ever mentioned by Gunners fans, then the name of Swindon must be the first to cross their minds.
Swindon's footballing heritage, of course, has Arsenal written right across it, thanks to some brief moments of glory.
Arsenal's name even appears in the club's record books for providing the biggest attendance at the County Ground, when 32,000 people packed in to see the Gunners knock Town out of the FA Cup in 1972, when they went on to be losing finalists.
But while the most famous meeting of the teams was in another final - the 1969 League Cup - another, just over ten years later, provided arguably the greatest act of giantkilling seen on the County Ground turf.
The 1979 victory was an epic, and included an heroic 1-1 draw at Highbury before a rollercoaster of a replay at the County Ground, a week later.
Swindon were a team on the up. They had endured a string of indifferent seasons in the old Division Three in the 1970s - the days before the Premier League was invented - and years of dashed hopes had brought manager Bobby Smith to the County Ground in May 1978.
He almost took the club to promotion in his first season, with away defeats in the last two games leaving Town fifth in the table, so the 1979-80 season began full of hope.
An unbeaten home run but poor away form was the story of the first part of the season, so Town's climb up the table was slow, but they found encouragement from a dogged League Cup run.
This started with aggregate victories in the first two rounds, over Portsmouth (Division Four) and Chester (Division Three), followed by the first giant-killing of the season. Despite being 2-0 down, away to Stoke City from Division One, Town fought back and scored a last minute equaliser to force a third round replay, which they won 2-1.
In the next round they were drawn away to Wimbledon, who were destined to finish bottom of Division Three at the end of the season.
Town's 2-1 win took them to the quarter-finals for the first time since their cup-winning season of 1969 and, a decade on from that famous win, Arsenal were the perfect draw.
The legacy of the 1969 defeat still hung over Arsenal, despite their protests that they were aiming to win the cup, not just avenge Swindon.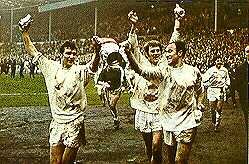 the Swindon players celebrate after
beating Arsenal first time round
"Not one of our current team played in that final, so they have nothing to avenge," so the programme notes from the first game claimed.
"And, in any case, does it matter what happened in 1969, or what Walsall did to us before the war?" - all of which sounds exactly like it
DID
matter.
Arsenal were also improving under manager Terry Neill.
They had finished a modest seventh in Division One the previous season but had won the FA Cup following a dramatic final that saw them beat Manchester United 3-2.
And in Irishman Liam Brady they had arguably the most naturally gifted player in Europe - as Town fans were about to find out. He missed the first match, at Highbury, through injury, but produced one of the greatest displays of football ever seen at the County Ground in the replay.
The rest of the team were mostly established internationals, including strikers Alan Sunderland and Frank Stapleton, who had already notched up 25 goals between them for the season, plus England midfielder Graham Rix and David O'Leary at the heart of the defence that had a reputation for solidity.
Even more revered was goalkeeping legend Pat Jennings, who was just about at the top of his career.
Town had also built up a team of strong players, some of whom had composure and flair, such as defender Kenny Stroud and midfielder Ray McHale, their captain.
Others will be remembered more for their battling qualities, including defender Russell Lewis, Chris Kamara and Brian Williams (better known to the faithful as 'Animal').
But there was plenty of pace and creativity up front, with winger Ian Miller feeding the blossoming strike partnership of Andy Rowland and little Alan Mayes.
And manager Bobby Smith was adding to his squad.
On December 4, 1979 - the day of the Highbury tie - it was revealed that he was just about to break the club's transfer record by signing midfielder Glenn Cockerill from Lincoln City for £110,000. This must have been a spur for the rest of squad, but if they needed any further incentive to produce an upset, there was also the win bonus they had been promised, which amounted to £30 each!
Cockerill's arrival was not the only off-the-field event around the time of the match. After producing a man-of-the-match display at Highbury, Town captain Ray McHale revealed he had received death threats from Gillingham 'fans' on the eve of Town's match there, three days earlier.
On the pitch, Town's players produced an excellent second half display at Highbury, with about 7,000 of their fans making the trip, out of a gate of 38,024.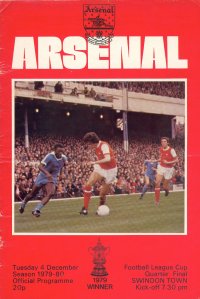 Back to the County Ground:
Town drew 1-1 at Highbury
They had trailed from the eighth minute when Frank Stapleton clearly shoved Town's Roy Carter before he was fouled himself by goalkeeper Jimmy Allan, and Alan Sunderland scored from the penalty spot.
Far from this opening the floodgates, as the crowd might have expected, Town slowly got into a game that they would eventually dominate for long periods after the break.
Andy Rowland went close after 50 minutes and, in the 68th minute, strike partner Alan Mayes came even closer when he just failed to connect with a cross. With 16 minutes left, a flagging Brian Williams was replaced by Billy Tucker, a central defender who wasn't even included on the team sheet in the programme, but was to be the hero of the hour.
It was Tucker who was to produce a dramatic equaliser with just six minutes left, heading in Alan Mayes' corner at the far post. It was no more than Town deserved.
But if it was a night of high drama at Highbury, the replay, exactly a week later, was to be even more exhilirating for Town fans.
Between the two ties, Town had returned to the bread-and-butter of Division Three football, but their cup exploits had clearly inspired them as they produced a mesmerising 8-0 demolition of Bury in which McHale, Rowland and Mayes all scored two each - and Highbury goal hero Billy Tucker got on the scoresheet again.
Off-the-field events again threatened to overshadow things as Swindon prepared for the replay. On the eve of the match, coach Wilf Tranter escaped serious injury when his car spun out of control in heavy rain and he was lucky to skid through a gap in the hedge to safety in a field.
And safety was the main concern of the Swindon police. This was the era of some of the worst excesses of football hooliganism, and three Swindon coaches had been attacked with bricks on the way home from Highbury.
So there were major fears over security at the replay, the police issuing an "anti-riot warning" before the match, which was expected to produce a capacity 26,000 gate. In the end, only 21,795 eventually turned up - spectators' fears about violence at least partly accounting for the disappointing turnout.
What transpired would nowadays be considered a serious disturbance, but the police said their operation had been a success, particularly as they had made no arrests. But 20 Arsenal 'fans' were ejected from the ground when about a hundred invaded the pitch before kick-off, and police officers were subjected to "a rain of missiles" at half-time.
Those who did turn up with the intention of enjoying the football - and they paid an average of £1.60 each to be there - were treated to arguably the most pulsating cup tie ever seen at the County Ground.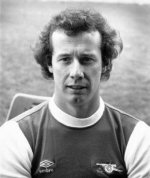 Ironically, there was no place in the starting line-up for Billy Tucker, but by far the most significant team news was the return of Liam Brady to the Arsenal line-up, following injury.
Town made the perfect start, going 1-0 up after ten minutes when Steve Walford headed a Brian Williams corner into his own net, then doubled their lead on 20 minutes when John Hollins deflected an Alan Mayes shot past Pat Jennings.
They would have gone further ahead but for two fine saves by Jennings from Mayes and Miller, but Arsenal found an even bigger hero in Liam Brady in the second half, who almost singlehandedly brought the Gunners back into the game.
On the hour, his diving header brought it back to 2-1, and he began to dominate the midfield. So it was lucky for Town that, within four minutes, a header from Chris Kamara restored their two-goal cushion.
With time ticking away and only 18 minutes of the 90 left, it seemed that only Liam Brady could save Arsenal.
Right on cue, he shot past Jimmy Allan to make it 3-2. Then, with just six minutes left, he crossed for Brian Talbot to head in and make it 3-3.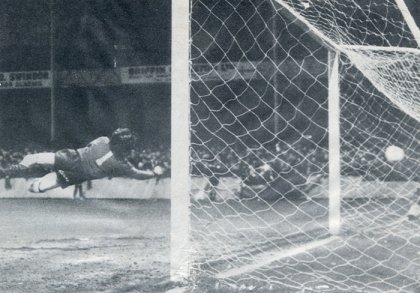 Arsenal's goalkeeper Pat Jennings can't keep out
Alan Mayes' deflected shot that made it 2-0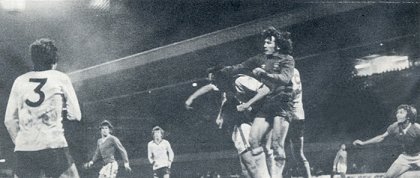 Pat Jennings punches the ball away from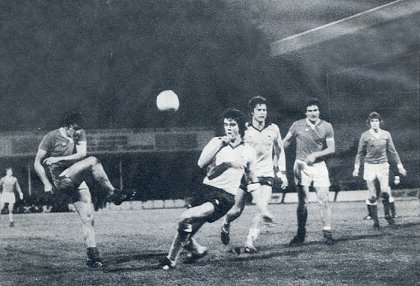 Brian Williams (l) has a shot blocked just minutes before Andy Rowland (second from right) scored the winner
As the game went into extra-time, most people were now backing Arsenal to complete their comeback, but that man Billy Tucker still had his part to play. Brought on as a substitute for Mayes, his introduction was designed to help Town cling on to their lead, so looked to have backfired when Arsenal equalised.
But when he slotted into the defence, it allowed the influential Roy Carter to push forward into midfield to counteract the influence of Brady, while the reshuffle also meant that Kenny Stroud was given the job of man-marking the Irishman for the first time.
It worked. Stroud somehow succeeded in playing Brady out of the rest of the game, and with four minutes of extra-time left and a second replay now seeming the most likely outcome - there were no penalty shoot-outs in those days - everybody wondered whether there was any time left for another hero.
More to the point, did anybody have enough energy?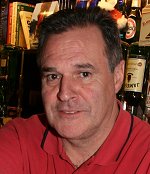 Town boss Bobby Smith would later pay tribute to a team that was "mentally and physically drained", but with his socks around his ankles, centre forward Andy Rowland wasn't finished yet - and his shot from close range found its way past Jennings.
"I toe-poked it with a size nine!" Andy, now landlord of the Plough Inn in Old Town told SwindonWebTV, "and that was about it. I was just delighted to see it go in."
"I knew at that stage of the game that it had to be the winner. There were not going to be any more goals scored. There was no way that Arsenal could come back at us, that late in the match."
Not even Brady.
Town, who had been 200-1 to win the League Cup only a fortnight earlier, now saw their odds slashed to 10-1, but they were not destined to return to Wembley for the final after all.
In a controversial semi-final in which none of the luck and none of the referee's decisions favoured Town, they lost on aggregate to a Wolves side that would go on to lift the trophy.
And their league form seemed to suffer because of it.
But even the disappointment of a semi-final defeat and eventually finishing just tenth in the table couldn't sour the memory of one of Town's greatest cup ties - and another unforgettable chapter in the Swindon v Arsenal saga.
Teams At Highbury:
Arsenal:
Pat Jennings, John Devine, Sammy Nelson, Brian Talbot, David O'Leary, Steve Walford, Steve Gatting, Alan Sunderland, Frank Stapleton, David Price, Graham Rix. Sub: John Hollins (for Price, 74 minutes).
Swindon:
Jimmy Allan, Russell Lewis, Andy Ford, Ray McHale, Roy Carter, Kenny Stroud, Ian Miller, Chris Kamara, Andy Rowland, Alan Mayes, Brian Williams. Sub: Billy Tucker (for Williams, 74 minutes).
At the County Ground:
Swindon:
Jimmy Allan, Russell Lewis, Andy Ford, Ray McHale, Roy Carter, Kenny Stroud, Ian Miller, Chris Kamara, Andy Rowland, Alan Mayes, Brian Williams. Sub: Billy Tucker (for Mayes, 83 minutes)
Arsenal:
Pat Jennings, John Devine, Steve Walford, Brain Talbot, David O'Leary, Willie Young, Liam Brady, Alan Sunderland, Frank Stapleton, John Hollins, Graham Rix.
We Won This Once!
Swindon Town legends Don Rogers & Chris Kamara enjoy a moment & memories with the Carabao Cup - SEE PICS

23 February 2018

Kamara on form
Sky star and former Town legend speaks to SWTV at De Vere Village...

Oldham 2 Swindon 2
Last second equaliser denies Town after frantic finish...

22 August 2009

Brian Clough
10 YEARS ON: "Now look here, young man" - Swindon Town's connection to old big 'ed...

A Day to Remember
50 YEARS AGO!Memories of Swindon Town's greatest day - the 1969 League Cup Final - 15 MARCH 1969 - WATCH VIDEOS