Eating Out - WHAT'S NEW
Our regular round-up of what's fresh on the menu in Swindon
Special theme nights, new restaurants, chefs winning awards - and especially special offers. You'll find it here in our new, regular round-up of what's new on the eating out front in Swindon.
Follow us on Twitter and Facebook and definitely sign up to
myswindonweb
for the latest up-to-date info and offers.
Welcome to our second eating out up-date of the year. As ever, we've left it a couple of days in to February, just after most of us have just got paid for the first time - which is always useful!
Some of you may even still be on a diet or, God-forbid, tried to go alcohol-free in January (although if it was for charity, we forgive you). We did neither here at SwindonWeb as we figure the words 'slimming' and 'soft drinks' don't really sit too well in a guide to good food. All in the name of research, of course!
Flavours of the World....
Starting this April at Cricklade House Hotel
You don't have to be Phileas Fogg to sample flavours of the world here in Swindon. In fact, beginning this April it'll practically be on your doorstep!
Over the coming months, Cricklade House Hotel are inviting guests to join them on a mouth-watering tour of world cuisine.
With speciality food and beers, the first port of call will be Italy, with the spicy delights of India following in May.
If you're interested in sampling these culinary delights for yourself please get in touch with Cricklade House Hotel via the link below.
As if anyone needed reminding, the most romantic date of the year is fast approaching - 14 February.
As usual, pubs and restaurants in Swindon are geared up - and largely booked up - for couples looking to enjoy a loved up meal for two with the odd glass of vino
(always helps!).
This year, the 14th falls on a Saturday
, which means many places aren't really making an all-out effort to do anything special because they know they'll be booked up anyway.
Some are making a weekend of it, though, so if you think Friday suits you better, then you might be in luck.
But be quick, no matter what you decide. We're hearing things are pretty much booked up already at most of the best pubs and restaurants.
For some of us it's any excuse to get out and enjoy an evening tucking into good food or something completely different.
The Crown at Broad Hinton
Now, if you like a nice juicy steak, then this is the culinary event for you.

But at The Crown you don't just browse a menu on their steak nights, you actually choose the cut of beef you want from a master butcher there in the restaurant, before he passes it on to the head chef, who cooks it right in front of you.

The Crown at Broad Hinton will be holding their first 'Extreme Steak Night' of the year on 05 February, with a prime choice of fillet, rump, rib-eye and sirloin on offer, all cut to the size and weight you decide.

Thursday 19 February 2015
Back to its normal February date this year and just after Valentine's (so not the best of timing wallet-wise), this year Chinese New Year is on Thursday 19 February.
For us, we always think it's a brilliant occasion for family & friends when you can get everyone together round a big table with a big Lazy Susan whizzing round in the middle piled with crispy duck, chowein and as many dishes as you can eat!
In 2015, it's the year of the sheep/goat! So we expect everyone will be 'flocking' to.... (yeah, ok, no jokes. Ed).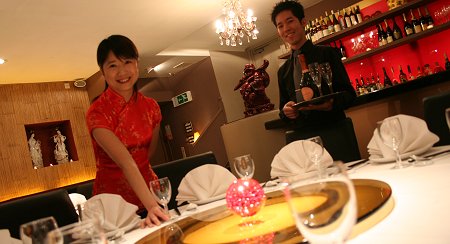 If you want a bit of privacy too when everyone's together, Chinese restaurants that offer party rooms at no extra charge include Le Rendezvous & Jade Garden.
Hong Xin & The Banquet + Jade Garden
Special events & entertainment on offer that weekend as part of the Chinese New Year celebration are Lion Dance shows at Hong Xin and The Banquet.
The large oriental buffet restaurant in West Swindon is providing the entertainment on Sunday 21 February at 2pm, with a 30 minute show at The Banquet in Regent St at 12 Noon.
There will also be a Lion Show at Jade Garden in Old Town - details TBC.
Please see website for more details.
Always a favourite subject of ours at SwindonWeb, and we've seen a few places come and go over the years.
Late 2014 brought us Wagamamas, Giraffe and a new Polish restaurant in Old Town (has anyone tried it yet?), so here's what early 2015 has in store for us so far.
We were tempted to say
'just like that!'
but, as we mentioned 12 months ago in this column that a new Moroccan-themed restaurant was coming to Swindon, this one has obviously been a while in the planning.
And from early reports it's sounding like time well spent.
Serving traditional Moroccan tapas and tagines, the atmosphere is typically laid back and proving popular for the Old Town crowd looking for something different.
We'll definitely be venturing in and giving it a go, so expect a report very soon.
Spicing things up nicely!
New restaurants now open in Regent Circus
We've kept on mentioning it but finally the wait is over for fans of Nando's in Swindon.
The big chain will open its doors in the new Regent Circus development on the 4th February.
Gourmet Burger Kitchen, Ask Italian & Coal Bar & Grill are now open, with just Prezzo to come.
The Cineworld cinema opens there on 06 February.
Greg & Vicki heading to The Bell
It's time to ring the changes for Greg & Vicki at The Plough in Badbury, just off Jnct15, who have moved to a pub with much more restaurant room - The Bell at Purton Stoke.
Aussie Greg has built up a brilliant reputation during his time at the Plough - just look at the TripAdvisor reviews - especially for his meat and fish dishes, so the couple jumped at the chance to take on The Bell, which has a 42-seater dining room at the rear.
They took over on the 25 January so expect a couple of weeks of settling in before they get fully in the swing of things.

If you're a regular to this column you'll know we like to have a quick nosey at TripAdvisor reviews of Swindon restaurants to see who's having nice things said about them.
We all know the jury is still out on TripAdvisor and whether you should believe what's been written, but sometimes you can just tell it's pretty genuine - not obvious, flattering comments from mates or unfair criticism from rival establishments.



This month, we take a look at an old favourite for many in Swindon - Gaetano, the Italian restaurant in Old Town.

And, ignoring the first time reviewers that are difficult to take at face value, it seems Carlos the owner knows how to keep his customers happy.
"We love Gaetanos, the atmosphere and service has always been just perfect , the food last night was great, Carlo and team could not do enough for us..... Thank you very much and a very happy new year, we'll be back soon."
Jan 2015
"Attended a fabulous evening at Gaetano's. This is an Italian restaurant that is sometimes overlooked because of it's location however it shouldn't be as the food, service and ambience is fantastic. The steaks are cooked to perfection and melt in your mouth and the staff are very friendly and attentive. Highly recommend this restaurant for romantic meals or for a night out with friends and/or family. Thank you Gaetano's for a fabulous evening."
Our advice, as always - judge for yourself!
Being that money can still be a wee bit tight in Feb, we love this offer currently on at Swindon Greyhounds.
Great eating out value and a chance to win your money back!
£10 pp for 3-courses incl. entrance & racecard In their Abbey Restaurant
every Wednesday & Friday
throughout February.
Or.... Buy One, Get One Free £25 pp for 3-courses incl. entrance & racecard on Saturdays.
Booking is
ESSENTIAL
though.
There's always a few days in the year when a trip out for a meal is almost compulsory. So to avoid disappointment or, worse still, the drafty table next to the back-door and bins, here's the key dates.
They'll be on us before you know it!
Valentine's Day
- Saturday 14 February
(just reminding you again!)
Mother's Day
- Sunday 15 March
Easter Sunday
- Sunday 05 April
Follow SwindonWeb on Facebook & Twitter for the latest eating out news and offers.
Sunday Lunch in Swindon
Traditional roast with all the trimmings? Carvery? Late serving? AA-rated? We know all the places to go in Swindon...

Curtain Raiser
Full house! Regent Circus development now complete with the opening of new six screen cinema - SEE PICS

06 February 2015

Nando's Spreads Its Wings!
Hot stuff - at last! The one we've all been waiting for.... Nando's is now open in Swindon town centre - SEE PICS

03 February 2015

Even More On The Menu!
GBK, Ask and Coal Grill now open at Regent Circus - Nando's opening this week!

02 February 2015

Toby Or Not Toby...
EATING OUT: Our mum about town checks out the self-proclaimed 'home of the roast' in Swindon - REVIEW

Eating Out Guide
Italian restaurant in Swindon? Chinese, perhaps? A quick bite at lunch-time? Or Sunday lunch?...