Eating Out - WHAT'S NEW
Our regular round-up of what's fresh on the menu in Swindon
Special theme nights, new restaurants, chefs winning awards - and especially special offers. You'll find it here in our regular, rolling round-up of what's new on the eating out front in Swindon.
Follow us on Twitter and Facebook and definitely sign up to
myswindonweb
for the latest up-to-date info and offers.
Welcome to our first eating out up-date of the year. As ever, we've left it a couple of weeks in to the month before our regular round up, just to give everyone time to work up an appetite after probably over indulging at Christmas!
Some of you may even be on a diet or God-forbid trying to go alcohol-free in January (although if it is for charity, we forgive you). We're doing neither here at SwindonWeb as we figure the words 'slimming' and 'soft drinks' don't really sit too well in a guide to good food. All in the name of research, of course!
First up, then, a great start to the year....
Sous chef at Restaurant 56 stars in BBC Masterchef
It was the highlight for all of us here this Christmas on TV, cheering local chef Nick Bennett in the final of BBC's Masterchef The Professionals.
Nick, who lives in Highworth and works as sous chef at Restaurant 56 in Faringdon, finished runner-up in an amazing contest that showed off his cooking and creative talents incredibly, receiving praise indeed from judge
Marcus Waring.
Restaurant 56 is situated in the oldest part of the Sudbury House Hotel and celebrates its 1st birthday next month. What a first year!
WIN Sunday Lunch for 4 with drinks at The Southbrook
Like we've just said in the intro, all this talk of
'Dry'
January isn't for us. We're big fans of
'Try'
January instead!
A chance to get out and try somewhere new. Eat and drink at a pub you might not have been for a while or perhaps not at all.
That's why we've teamed up with Arkell's to offer you the chance to enjoy Sunday Lunch for 4 - with drinks (glass of wine or a pint) - at their newest pub, The Southbrook.
Tucked away in Ferndale, Swindon, not actually far from the Oasis, you'll find a spacious bar in this former farmhouse, with separate eating area serving a very good lunch and dinner menu throughout the week - and especially popular on Sunday.
Just LIKE & SHARE our Facebook page to enter, or pop by anyway. It's a lovely pub definitely worth a 'try'.
As if anyone needed reminding, the most romantic date of the year is coming up mighty soon - 14 February.
As usual, pubs and restaurants in Swindon are geared up - and largely booked up - for couples looking to enjoy a loved up meal for two with the odd glass of vino
(always helps!).
This year, the 14th falls on a Sunday
, which means many places are opening especially on Sunday evening to make the most of it.
Most are even making a weekend of it, though, so if you think Friday or Saturday suits you better, then you might be in luck.
But don't leave it too late, though, no matter what you decide. The best pubs and restaurants are already taking bookings.
For some of us it's any excuse to get out and enjoy an evening tucking into good food or something completely different.
You don't need to be the Big Yin to know there's a big Scottish celebration coming up soon - Burns Night!
It's out with the haggis, neeps and tatties on and around the 25th January to mark the birthday of Robert 'Rabbie' Burns, the most famous Scots poet who penned the lines we've all sung on New Year's Eve 'Auld Lang Sang'.
So where's best in Swindon to enjoy a wee dram and a toast to kilt-wearers everywhere - big do with piper or just a more quiet table for two?
The Crown at Broad Hinton
Thursday 04 February (first Thursday of every month)
Now, if you like a nice juicy steak, then this is the culinary event for you.

But at The Crown you don't just browse a menu on their steak nights, you actually choose the cut of beef you want from a master butcher there in the restaurant, before he passes it on to the head chef, who cooks it right in front of you.

The Crown at Broad Hinton will be holding their regular monthly 'Extreme Steak Night' of the year on 04 February, with a prime choice of fillet, rump, rib-eye and sirloin on offer, all cut to the size and weight you decide.
Back to an early February date this year and just before Valentine's (so not the best of timing wallet-wise), this year Chinese New Year is on Monday 08 February.
For us, we always think it's a brilliant occasion for family & friends when you can get everyone together round a big table with a big Lazy Susan whizzing round in the middle piled with crispy duck, chowein and as many dishes as you can eat!
In 2016, it's the year of the monkey!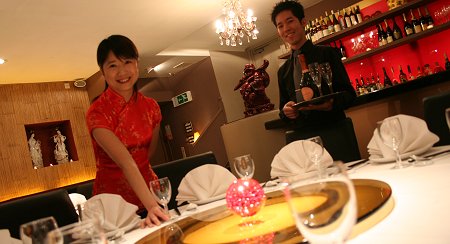 If you want a bit of privacy too when everyone's together, Chinese restaurants that offer party rooms at no extra charge include Le Rendezvous & Jade Garden.
Special events & entertainment on offer as part of the Chinese New Year celebration include Lion Dance shows at Hong Xin and The Banquet.
Lion Dancing on Sunday 07 February
The Banquet - 12 Noon
HongXin - 12.45pm
The Fox & Hounds at Wroughton
One of the real success stories of 2015 has to be the complete transformation of the Fox & Hounds pub in Wroughton.
Anyone stepping in to the place can't help but be impressed with it's all-new look and surroundings, matched, indeed, by it's superb food.
And a new addition already this year is their all-day Comfort Zone menu, which they plan to offer from the 14th January.
Expect classics such as shepherd's & steak & ale pies mixing with duck cassoulet & homemade Cornish pasties, all to be enjoyed in the bar of cosy Fox's Den.
Another definite visit for

#tryjanuary

.
Vive Les Chats as Bistro re-opens
We know this happed a few weeks before Christmas, but with all the frenzy of the festive period it almost went unnoticed.
Owners Phil & Shaureen (who also run the super-busy Los Gatos just round the corner) decided to say a sad au revoir to Swindon's only proper French restaurant on 25 September.
But after a wonderful re-think and a new chef and team in place, Les Chats has started serving again - albeit a bit more
'European'
- before their loyal customers had stopped crying in to their onion soup.
All we can say is....
Merci bein!
Chiseldon House, Chiseldon
If you're a regular to this column you'll know we like to have a quick nosey at TripAdvisor reviews of Swindon restaurants to see who's having nice things - or not - said about them.
We all know the jury is still out on TripAdvisor and whether you should believe what's been written, but sometimes you can just tell it's pretty genuine - not obvious, flattering comments from mates or unfair criticism from rival establishments.



This month, we take a look at one of the few AA Rosette winning restaurants in Swindon - Chiseldon House.
And the reviews appear to be somewhat mixed, to say the least.
"..... it was a poor experience, poorly handled and we shall not be dining there again. In addition, we were not the only people to complain about the beef that day. The management should be ashamed."
24 November 2015
Asparagus tarts and scones are sublime....well done to the chef
"The sandwiches and lack of service really let this visit down.....such a disappointment, Please employ a few more staff, and train them on the basics, simply asking us if everything was okay, or can I get you anything else?
A touch of Fawlty Towers at Breakfast
"The hotel is in a lovely old building that could be so much more, but they have tried. The decor is fine if a little quirky/mismatched. Staff were friendly."
Let down by poor customer service
"I am completely appalled at the poor customer service and lack of information given by the staff at this hotel..."
Our advice, as always - judge for yourself!
There's always a few days in the year when a trip out for a meal is almost compulsory. So to avoid disappointment or, worse still, the drafty table next to the back-door and bins, here's the key dates.
They'll be on us before you know it!
Valentine's Day
- Sunday 14 February
(just reminding you again!)
Mother's Day
- Sunday 06 March
Easter Sunday
- Sunday 27 March
Rick Stein is coming to a restaurant near you.... he hopes
It's only a couple of miles down the road, so when the likes of Rick Stein show an interest in opening a seafood restaurant in nearby Marlborough, we think it'll most definitely be worth the drive.
A planning permission application has been put in by Stein to convert the Grade II listed Lloran House in the High Street, but not all the local residents want it.
We'll report more as soon as we hear it.
Follow SwindonWeb on Facebook & Twitter for the latest eating out news and offers.
Sunday Lunch in Swindon
Traditional roast with all the trimmings? Carvery? Late serving? AA-rated? We know all the places to go in Swindon...

Even More On The Menu!
GBK, Ask and Coal Grill now open at Regent Circus - Nando's opening this week!

02 February 2015

Toby Or Not Toby...
EATING OUT: Our mum about town checks out the self-proclaimed 'home of the roast' in Swindon - REVIEW

Eating Out Guide
Italian restaurant in Swindon? Chinese, perhaps? A quick bite at lunch-time? Or Sunday lunch? FULL GUIDE