Eating Out - WHAT'S NEW
Our regular, rolling round-up of what's fresh on the menu in Swindon
Special theme nights, new restaurants, chefs winning awards - and especially special offers. You'll find it here in our new, regular round-up of what's new on the eating out front in Swindon.
Follow us on Twitter and Facebook and definitely sign up to
myswindonweb
for the latest up-to-date info and offers.
Well, we all hope you enjoyed the superb Swindon summer we've all just basked in - and still are on some days. Wasn't it perfect for al fresco dining and barbecues? Now that's real eating out.
Now, of course, foody thoughts turn to Autumn and the new season and perhaps something more wholesome - and, with four months still to go, Christmas!
Rest assured, we're up-to-date on both counts, with a quick summary here of what's new on the restaurant & menu side here, plus a full guide to festive food and the places to party on it's way. It does pay to book early you know!
So let's start with an event where you can enjoy the very best locally reared and grown meat and vegetables.
Village Feast and Harvest Supper
The Royal Oak at Bishopstone
Many of you may have noticed that it's actually Organic September and strangely Swindon is actually regarded as one of
the
places to be to sample some of the finest organic food and drink in the country.
The organisers of Organic Month, The Soil Association, are even holding their Annual Conference here next month!
The Michelin-rated Royal Oak at Bishopstone is known for serving some of the very best organic pub food in the country, as recently mentioned in the 2015 Good Food Guide.
And SwindonWeb is delighted to offer the chance for 2 people to join them on 02 October for their annual Village Feast and Harvest Supper.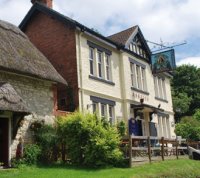 The Royal Oak in Bishopstone
There is no set menu as such, but dishes will include organic pork, reared on the nearby Helen Browning Organic farm, with vegetables grown at Westmill Organics.
The cost for 3-courses is £15.00 and there are 20 places still available if you would like to book.
Even better, if you enter our competition via the link below you may be able to enjoy a proper feast on us.
In other news... let's start with new places to eat in Swindon.
Full steam ahead for Pizza Express
New restaurant opens at Designer Outlet
Can anyone remember the last time there was a Pizza Express in Swindon town centre?
They made a real effort with quite an opulent interior when they opened in Havelock Square back in the 1980s, but it sadly closed in the early 90s because Swindon just wasn't ready for pinot grigio, dough balls, a four seasons and jazz.
But after the success of their Old Town restaurant, we now have the choice of two in town with a brand-new one at the new-look Swindon Designer Outlet.
Open 11am - 10pm everyday, you can almost guarantee with day-time shopping and lunch trade, plus evenings - with Wagamamas also now open next door (see below) as part of a brand-new Food Court offering - it's going to be just as popular.
As mentioned, the renowned family-friendly Pan-Asian restaurant Wagamamas has also opened its doors to customers in Swindon this month with the launch of its new restaurant at the Designer Outlet.
You can read our review of the new restaurant via the link below.
Your local supermarket isn't normally a first choice eating out destination, but with the acquisition of the very popular Giraffe chain of family-friendly restaurants, Tesco is trying to change all that.
And at their Ocatol Way store in Swindon, we now have the chance to try it.
The opening-hours are lengthy too for breakfast, lunch & dinner; 7am-11pm from Monday to Saturday and 9am-1pm on Sunday.
The brand new restaurant at Blunsdon House
A half-a-million pound investment at the Blunsdon House Hotel has seen what was previously Christopher's re-open as Flame.
The menu centres around cooking on a Josper 'supergrill' from Spain, where fully flavoured steak, poultry, fish and vegetables are chargrilled at high temperature with the juices locked-in.
We look forward to trying that!
Elsewhere, the news is that some of the new restaurants at the hugely-anticipated Regent's Circus development will also saying hello to its first customers before Christmas too.
They include
Ask Italian, Nando's, Prezzo & Coal Bar & Grill.
Not forgetting our old favourites!....
The new Cineworld also due at the top end of the town centre means Regent Circus will have a tremendous choice of places to enjoy a bite.
So much so, we think it's worth still remembering the restaurants that have been our favourites for years, and who have waited patiently while the essential car park adjacent was closed and turned in to a building site.
They include the oldest Indian tandoori in Wiltshire and curry 'Oscar' winner,
The Khyber

(pic. right)
, who have only just celebrated 50 years in Regent Circus, and the brilliant
Fratello's
Italian, who consistently provide food and service that people love.
This event coming up and deals available being a great example of what's on offer already while we wait for the grand opening.
'The Taste of Italia'
Fratello's Cirencester
Monday 29 September 2014

If you missed this event at Fratello's in Swindon on 18th September, may we recommend you put Monday the 29th in your diary for a similar event at Fratello's in Cirencester.
There they will be serving a stunning 5-course dining experience of native dishes, with regional wines to accompany with commentary on the region's background by a professional sommelier.
Burgers, risotto and steaks are all on the mains list at Rudis, as part of their Autumn two courses for £12 offer, available everyday until 9pm except Sunday.
Just a shame that Smoo's Smokehouse nearby just never got it right and have sadly closed. We always liked the idea but their Trip Advisor reviews just show how hit and miss it was.
See a little bit further down as well for the reviews of the former Curry Corner King, The Jewel in the Crown, which is also unfortunately looking past its best and until just a few weeks ago was still promoting its World Cup curries!
.... which brings us very nicely onto another reason to mention Regent Circus this month - churrascaria!
No, we didn't know what it was, either, until reports came in of a new name for what was previously Rio Brazil, now called
Rodizio Do Brazil.
We can only think it was down to a similar 'Rio' restaurant also in Swindon and the confusion that was causing, but there's no mistake at the quality of different dishes now on the menu.
Heavily focused on meat and steak, big southern Brazilian influences are also abound inside, but we liked the look of the all you can eat Rodizio on Friday & Saturday nights when we popped in (pic. above)which includes a choice of 15 meats, hot dishes, traditional sides and salad bar.
It's almost enough to bring back memories of June and our boys heading off to South American to take on the world, isn't it?.... errrr, hang on!
The Grill
20 At The Kings, Old Town
Up in Old Town, the popular Grill restaurant at 20 at the Kings is now open
7 days a week from 6-9pm
, with it's daily-changing menu of exciting new dishes and real traditional favourites – steak, lamb, chicken & fish.
3 course table d'hote meal incl. wine for two for £50
And The Grill also now offers a brand-new 4, 4 & 4 Table d'hote menu at a fixed price of £50 per couple including a bottle of wine.
"They'll be four starters, four mains including a fish dish, dark meat, white meat & vegetarian option everyday, plus four homemade desserts to choose from," Head chef and owner Darren Turner told us.
"Plus there will be a
choice of 10 fresh fish dishes
every lunchtime in our bar eating area, The Pantry."
Yes, we may already be talking about autumn menus and hearty meals in the days ahead, but we also think it's worth reminding everyone of that great summer dish - Paella.
The Daily Mail - for what its worth - seem to be making a lot of it lately, so we thought we'd point out the best place in Swindon to enjoy it!
El Toro in Devizes Road are very well known for their steaks and tapas, but their Paella Wednesdays is almost one of Swindon's best-kept eating out secrets.
Two people can tuck in to an authentic seafood & chorizo paella for just £14.95. But it advisable to book ahead, as a very good paella - as we are always reminded - is not fast food!
If you're a regular to this column you'll know we like to have a quick nosey at TripAdvisor reviews of Swindon restaurants to see who's having nice - or not so nice - things about them.
We all know the jury is still out on TripAdvisor and whether you should believe what's been written, but sometimes you can just tell it's pretty genuine - not obvious, flattering comments from mates or unfair criticism from rival establishments.
This month, we think one of Swindon's best-known restaurants needs a mention - The Jewel in The Crown.
And unfortunately, this previous big award-winner would appear to be letting standards drop.
Here's just two of recent comments:

"Always a pleasant atmosphere and after several visits cannot fault the food although since groupon vouchers have been so available (although the value in these cannot be knocked) it seems quality has dropped slightly. I would still go back but might be a tad more critical
"What ever happened to this resto?"
"This used to be my go to place for a curry but the last two visits here have not been good. The food seems very bland and not well cooked, service is also slow. I'm sure it wouldn't take much to get it back to where it was, but they need to do something as the quality is definitely not there any more. Still a great ambience with an authentic indian feel...."
Our advice, as always - judge for yourself!
There's always a few days in the year when a trip out for a meal is almost compulsory. So to avoid disappointment or, worse still, the drafty table next to the back-door and bins, here's the key dates.
They'll be on us before you know it!
Clocks go back
- Sunday 26 October
Festive Season Fridays & Saturdays:
Friday 05, 12, 19 December
Saturday 06, 13, 20 December
Follow SwindonWeb on Facebook & Twitter for the latest eating out news and offers.
Eating Out Guide
Italian restaurant in Swindon? Chinese, perhaps? A quick bite at lunch-time? Or Sunday lunch?...

Sunday Lunch in Swindon
Traditional roast with all the trimmings? Carvery? Late serving? AA-rated? We know all the places to go in Swindon...