Eating Out - WHAT'S NEW
Our regular round-up of what's fresh on the menu in Swindon
Special theme nights, new restaurants, chefs winning awards - and especially special offers and competitions. You'll find it here in our regular, rolling round-up of what's new on the eating out front in Swindon.
Follow us on Twitter and Facebook and definitely sign up to
myswindonweb
for the latest up-to-date info and offers.
Two months rolled in to one because, let's face it, the big celebration that's called Christmas does tend to dominate things in pubs and restaurants as we approach the end of the year.
On that note, if you haven't even thought about your
Christmas party
yet (and some of us simply haven't) then of course it's not too late, although some of the big Friday & Saturday night dates in December will already be booked up.
Check out our guide for the best places to enjoy yourself - you can even
WIN A CHRISTMAS PARTY
with us too.
But as it's not quite turkey time yet....
Always a good place to start and we've quite a choice for you this month. The first a local pub celebrating its 150th birthday with a complete transformation - the second, a back-street affair that's not really 'new' but is fast becoming known as 'Swindon best-kept culinary secret'.
The Fox & Hounds, Wroughton

Now this is impressive. So many times we've heard of 'make-overs', 'big plans' and 'new starts' only to see a lick of paint and talk of those dreaded words 'a la carte'.
But anyone who visits the new-look Fox & Hounds at Wroughton simply won't recognise the place.
Serious investment has transformed it from a predominantly drinking pub to a modern relaxing place to enjoy proper portions of pub food and classics, plus daily-changing specials.
It's served both in the light, airy & comfortable open-plan bar area - where dogs are more than welcome - plus a separate and very cosy restaurant room called The Fox's Den.
Food is served 7 days a week both at lunchtime and in the evening, plus, of course, Sunday Lunch, where booking is advisable.
Caribbean cooking at its very best
We think this place sums up eating out in Swindon really quite well - full flavoursome food simply done, excellent value, independent and most people haven't got a clue where it is.
With a passion for creating home cooked food 'just like my mother and grandmother' used to make, Gavin Green has created a small Caribbean oasis in the heart of Swindon town centre, just off Eastcott Hill, and 2 minutes walk from the new cinema.

As it says on their website..... Delicious and generous meals, mouthwatering Caribbean patties, hand made dumplings, daily curries and stews, fish Friday's and lunchtime bargain specials, are all on offer everyday (except Tuesday) from 12 - 9pm
One of 'Swindon's best-kept secrets' indeed.
Now serving Sunday Lunch from 08 Nov

This is worth a mention because we hear very good reports of the catering at Broome Manor Golf Club since the Council relinquished control earlier this year.
And now they're spreading their wings from golfing fayre & events to open up fully for Sunday Lunch from 08 November. Carvery will be served from the function suite overlooking the golf course, with two sittings available: 12:00pm and 1:30pm.
The Crown at Broad Hinton
This is a pub where it's always worth the drive to enjoy good food, and their new autumn & winter menu is even more reason to pay a visit.
Choose between the main restaurant or the oak-beamed library room, both ideal for a quick bite or big family lunch.
And if you like steak, then, well.... what can we say. Superb.
Extreme Steak Night - now every month
The Crown also regularly hold what they call 'Extreme Steak Nights' with a prime choice of fillet, rump and sirloin on offer, all cut to the size and weight you decide by the butcher there and then!

Extreme Steak Nights take place on the first Thursday of every month, with the next one on the 5th November.
Moving on from turf for things for surf, fish lovers in Swindon will also be pleased to see also some new excellent additions to the menu at the renowned Weighbridge Brewhouse.
Possibly the only place around where you can choose between Whole Lobster Thermidor, Spanish-style Scallops, Smoked Loin of Cod, Seabream or a Salmon and Monkfish Plate. And more.
And.... if you want to combine the two.
A brand-new special evening offering a very good choice of fish, steak & burgers - at just £9 per dish.
The Cricklade House Hotel
Having been to one of these nights, we can vouch what good fun they are, so as the advert says 'Sit on your jacksie, pre-order some lovely jubbly and don't be a plonker!'
The Cricklade House Hotel is hosting a dining experience like no other with 'Only Fools and 3 Courses' on
20 November
. An evening of chaos & mayhem with an extra large portion of comedy - and mange tout, Rodney!
Greek Olive, Faringdon Road
If you're a regular to this column you'll know we like to have a quick nosey at TripAdvisor reviews of Swindon pubs & restaurants to see who's having nice things - or not - said about them.
We all know the jury is still out on TripAdvisor and whether you should believe what's been written, but sometimes you can just tell it's pretty genuine - not obvious, flattering comments from mates or unfair criticism from rival establishments.
This month, we feature a restaurant that only recently opened in Swindon town centre -
The Greek Olive.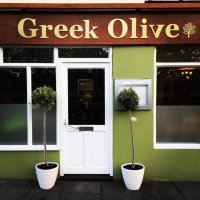 for all Swindon restaurants
It's the only proper restaurant in Swindon were you can enjoy authentic Greek food, and what a start they've made.
We tried to book for a Friday recently and couldn't get in. No wonder!
Here's just a couple of the recent reviews:
"The meal was delicious, we can't wait to go back. The restaurant was nicely busy for a Thursday night and the staff were excellent. 10 out of 10"
28 Oct 2015
"Finally got to try this amazing restaurant after hearing nothing but positive reviews and having visited last Friday I cannot disagree with them. I really loved the Feta 'Dimitri' and Moussaka but all in our group thoroughly enjoyed their food and the service was friendly and fast enough for a very busy Friday evening.
"Nothing was to much trouble and we enjoyed our evenings there. Lovely staff, good service and excellent food, what more do you want. Very clean and attentive, full marks."
26 Oct 2015

Our advice, as always - judge for yourself!
There's always a few days in the year when a trip out for a meal is almost compulsory. So to avoid disappointment or, worse still, the drafty table next to the back-door and bins, here's the key dates.
They'll be on us before you know it!
Festive Season Fridays & Saturday:
Friday 04, 11, 18 December
Saturday 05, 12, 19 December
Follow SwindonWeb on Facebook & Twitter for the latest eating out news and offers.
Sunday Lunch in Swindon
Traditional roast with all the trimmings? Carvery? Late serving? AA-rated? We know all the places to go in Swindon...

Even More On The Menu!
GBK, Ask and Coal Grill now open at Regent Circus - Nando's opening this week!

02 February 2015

Toby Or Not Toby...
EATING OUT: Our mum about town checks out the self-proclaimed 'home of the roast' in Swindon - REVIEW

Eating Out Guide
Italian restaurant in Swindon? Chinese, perhaps? A quick bite at lunch-time? Or Sunday lunch?...