Eating Out - WHAT'S NEW
Our regular, rolling round-up of what's fresh on the menu in Swindon
Special theme nights, new restaurants, chefs winning awards - and especially special offers. You'll find it here in our regular, rolling round-up of what's new on the eating out front in Swindon.
Follow us on Twitter and Facebook and definitely sign up to
myswindonweb
for the latest up-to-date info and offers.
Well, we all hope you enjoyed the superb Swindon summer (albeit August was a bit of a wash out). Wasn't it perfect for al fresco dining and barbecues? Now that's real eating out.
Now, of course, foody thoughts turn to Autumn and the new season and perhaps something more wholesome - and, with four months still to go, Christmas!
Rest assured, we're up-to-date on both counts, with a quick summary here of what's new on the restaurant & menu side here, plus a full guide to festive food and the places to party on its way. It does pay to book early you know!
So let's start with an event where you can enjoy the very best locally reared and grown meat and vegetables.
Village Feast and Harvest Supper
The Royal Oak at Bishopstone
Many of you may have noticed that it's actually Organic September and strangely Swindon is actually regarded as one of
the
places to be to sample some of the finest organic food and drink in the country.
The Michelin-rated Royal Oak at Bishopstone in particular is known for being dedicated to serving some of the very best organic pub food, as recently mentioned in the 2015 Good Food Guide.
And SwindonWeb is delighted to offer the chance for 2 people to join them on Tuesday 12 October for their annual Village Feast and Harvest Supper.
There is no set menu as such, but dishes will include organic pork, reared on the nearby Helen Browning Organic farm, with vegetables grown at Westmill Organics.
The cost for 3-courses is £15 - £20 with places still available if you would like to book.
Even better, if you enter our competition via the link below you may be able to enjoy a proper feast on us.
In other news... let's continue with our favourite eating out subject in Swindon.....
Hoopers Place in Old Town, just off Wood St, has just seen Asiana close down after a year of giving it a go, with Swindon obviously not quite ready for an Italian-Chinese combo on the menu.
So we were pleased to see another restaurant open up almost immediately bang opposite - Kenzo 72.
Thankfully, this venture is backed by people with a bit more experience is judging the market here in town with a number of well-known and successful Chinese restaurants already open.
And after a first look at a taste at Kenzo 72, they look like they've got it right again.

The food served is described as 'Oriental Themed Tapas with Fine Steak' - all served in very impressive surroundings.
Well worth a try, we say.
Or to be precise Leonardo Ristorantino, now open at the bottom of Victoria Hill in the premises that was Rio Brazil and Rafus before them.
We make that

eleven independent Italian restaurants in Swindon

to choose from.... (not including the new boys like Ask) with Marios being the first to bring us the full Trattoria experience of spaghetti bolognese, vino in baskets and waiters with unfeasibly large pepper grinders back in the 60s.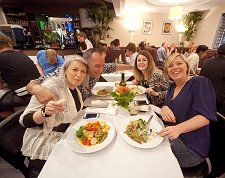 And haven't we loved it since!
The full list of Italians currently in Swindon being - in no particular order of greatness (feel free to tell us your favourite, though, via Facebook below)
Another one of those pubs that's always been tucked away in Wroughton, but is now all set for a completely new lease of life.
The Fox & Hounds has been taken over by Darren & Vicki Turner who own the Old Town Pub Co. and already run 20 at The Kings in Wood St, The Plough & The Clifton in Old Town - the latter two taken on and completely re-invented and reinvigorated in the last 2 years after major refurbishments.
The same treatment is currently under way at their latest addition with a complete gutting and updating of the interior, a new look and identity with quality food and rooms soon to be on offer.
They plan to re-open the pub at the end of September.
More details coming soon.
This is a real shame to hear because as Swindon's only proper French Bistro, we know it'll be sorely missed - especially their excellent Formula Rapide lunch.
But after owners Phil & Shaureen moved their hugely successful Los Gatos tapas bar from next door in Wood St to just around the corner - where it has gone so incredibly well for them - the time has come where they couldn't give their best to two very different restaurants.
The last evening service will be on Friday 25 September.
Retirement all set at The Inglesham Forge

Readers of this blog will know we always like to give steak a mention when we can. You can't beat a superbly cooked, rare rib-eye, we reckon.
So, for all those who want the very best in Swindon, may we recommend you book a table at the Inglesham Forge while you can.
Super chef and owner Manuel Gomez and his wife Jackie are all set to retire and this could well be their last autumn and winter at the restaurant, where steak and Manuel's
'Tournedos Forge'
- Medallions of fillet steak topped with melted Stilton cheese and finished with a port sauce - are legendary.
The TripAdvisor reviews say it all.
And while we're on that subject...... we always have nosey at TripAdvisor reviews of Swindon restaurants to see who's having nice - or not so nice - things about them.
We all know the jury is still out on TripAdvisor and whether you should believe what's been written, but sometimes you can just tell it's pretty genuine - not obvious, flattering comments from mates or unfair criticism from rival establishments.
This month, it's Rangoli on Groundwell Road.
We reported when they first opened how interesting and different their menu seemed, and it would appear people are still liking it.
Here's just two of recent comments:

"Rangoli has the most authentic India food in Swindon. The prices are great, taste is delicious and the service is fast. Have been here many times and never missed to order the dal makhani - its a must try item."
Sept 2015
"Wow, be prepared to be impressed, never before have i tasted such well presented and tasty looking Indian food before and i have visited the majority in Swindon. None of them come even slightly close to this true authentic gem of an Indian Restaurant."
"As regular travellers to Goa we have a particular love for Indian food and despite having eaten at many an Indian restaurant, none meet the level of taste and authenticity of Rangoli."
Our advice, as always - judge for yourself!
Unless you've been on another planet in the last week, you've probably noticed there's a rather large sporting event taking place at the moment.
And while the Rugby World Cup isn't everyone's cup of tea, it does mean rather good business for pubs showing all the action.
One of the best - and now owned by Arkell's - is The Southbrook in Ferndale, where the food is rather good too.
So if you fancy a bite to eat in their separate restaurant room before watching a big game on their big screen (it's not compulsory though), then this is the competition for you. We've a table for 4 including drinks up for grabs.
Just follow the link for your chance to win.
There's always a few days in the year when a trip out for a meal is almost compulsory. So to avoid disappointment or, worse still, the drafty table next to the back-door and bins, here's the key dates.
They'll be on us before you know it!
Clocks go back
- Sunday 25 October
Festive Season Fridays & Saturdays:
Friday 04, 11, 18 December
Saturday 05, 12, 19 December
Follow SwindonWeb on Facebook & Twitter for the latest eating out news and offers.
Sunday Lunch in Swindon
Traditional roast with all the trimmings? Carvery? Late serving? AA-rated? We know all the places to go in Swindon...

Even More On The Menu!
GBK, Ask and Coal Grill now open at Regent Circus - Nando's opening this week!

02 February 2015

Toby Or Not Toby...
EATING OUT: Our mum about town checks out the self-proclaimed 'home of the roast' in Swindon - REVIEW

Eating Out Guide
Italian restaurant in Swindon? Chinese, perhaps? A quick bite at lunch-time? Or Sunday lunch?...