Play Better Golf in Swindon
VIDEO: Who better than Ian Bolt, PGA Professional at Basset Down. He's from St Andrews!
Ian's Top Tips #1 - Alignment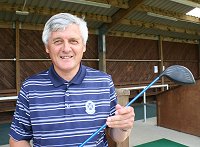 The Open is on TV, so who better to ask for a few tips on playing better golf than someone who was brought up at the home of golf - St Andrews.
Ian Bolt, the PGA Professional at Basset Down, just off Jnct. 16, also teed up with the greats in the Open in 1974, so not only can he teach it, he can properly play the game too!
What all top players have in common
Watch the video below for Ian's take on what all the best players have in common and how by paying attention to basics of alignment you can strike the ball better and lower your scores.
More of Ian's Quick Tips coming soon.
First opened in 2006, the 9 hole course (with another 9 coming soon) includes a floodlit 20-bay driving range for all-year-round practice plus a fun, adventure golf course & football golf! Ian is available for tuition throughout the week & at weekends by appointment.
More information is available via the link below.
INTERVIEW: David Howell
VIDEO: We talk to the Swindon golf star ahead of this week's PGA Championships...

25 May 2016

Golf in Swindon
Beginner or Tour Pro, get in the swing with our Swindon golf guide...