Date added: 21 August 2006
Quad Biking - a SwindonWeb adventure
Nothing to do in Swindon? Think again!

In this the second part of a series of SwindonWeb adventures, we've been out and about continuing our search for things to do that are just a little more exciting than the usual. Things that are a: not neccessarily the type of fun activity you may associate with our lovely home town and b: something which (most importantly) we can film some hilarious (hopefully, humiliating) video of someone trying out.

Part Two: Quad Biking
with our brave man on four wheels, Leigh Debbage

After conquering the waves on waterskis, my next SwindonWeb Adventure would take me back to dry land and onto four wheels.

As I opened the envelope that contained my second classified mission I glimpsed two words that struck me with both excitement and a slight shudder of apprehension: Quad Biking.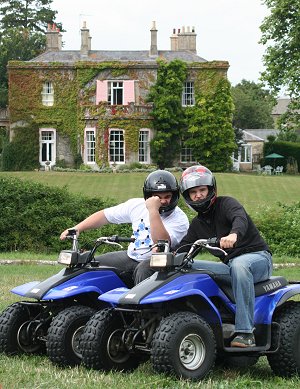 Let's go off-road:
the SwindonWeb Quad Bikers at
Eight years ago it was just another exhilarating off-road pursuit for your everyday adrenaline junkie.

Then the celebrities came and ruined it all!

First Rik Mayall in 1998, then Ozzy Osbourne five years later, both nearly came a cropper when their new toys got the better of them on their private estates.

But in the right hands, quad bikes, or ATVs (all terrain vehicles) are a great way to churn up the countryside, roaring through rough terrain like there's no tomorrow.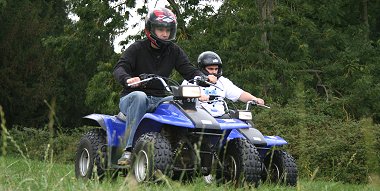 All terrain:


the boys go full throttle

So heading towards Planet Pursuits at Purton House my colleague Andy and I soon took on the role of excitable schoolboys, repeatedly quoting the Fast Show's Dave and Lindsay: "We're gripped, we're sorted, LET'S OFFROAD!"

Rik and Ozzy were the last thing on our minds!

The great thing about quad bikes is how easy they are to control. With no gears to worry about, all you have to do is stick it into 'Forward' and let your right thumb do the work.

Our big boys' toys of choice were Yamaha Breezer 125s, light two-wheel drives that corner relatively easily but never feel like they're going to topple.

Of course as soon as we mounted our 'Breezers the competitive, boy-racing alpha-males kicked in.

Whether zipping around the make-shift race track at the end of the field, or careering towards our dare-devil photographer, there was only one thing on both of our minds: to get there first!
Unfortunately for me, dark horse Andy had neglected to mention his quad biking experience down under, where he took on a whole load of Kiwi scenery and came out on top. Consequently, I was Jensen Button to his Fernando Alonso.

But despite spending most of the time eating Andy's dirt, quad biking was truly as fun as it looks.

Whether you're sixteen or sixty, male or female, it's a great diversion and a nice way to relieve the tension of sitting in traffic jams or crawling over the Magic Roundabout at rush hour.

If I had a big enough back garden, I'd get one myself!

Try it for yourself...

If you, like me, haven't got a big enough back garden to get your own; or, like our friends Ozzy and Rik, simply can't be trusted, then take a trip to Planet Pursuits.

Group sessions can be booked for four or more, giving you a supervised run of the huge field for up to an hour.
But quad biking is just one of the myriad activities available around the picturesque grounds of Purton House.

Why not take your adventures to another level and talk your work mates into booking one of Planet Pursuits' fun-packed corporate packages, tailored to your company's tastes.

The ultimate team building experience, Planet Pursuits can put on anything from paintball to pilot bikes. For more information, visit their website below.