Date added: 09 January 2007
Salsa - a SwindonWeb adventure
A sociable way to get fit


with our girl on the dancefloor, Kirsty Heber-Smith

Bit of a holy grail, isn't it? The idea of 'Getting fit - and having fun at the same time'.

I've certainly never found a way of getting in a sweat and kidding myself that I was actually enjoying it - until Tuesday night, that is.

I can tell you, there's definitely more than meets the eye to Salsa dancing.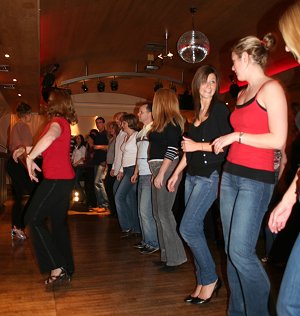 Liz and I keeping up with the pro's!

The blurb will tell you that it's a great way to get in shape, tone your muscles, strengthen your core, improve your posture... etc. etc. as well as burning as much as 200-300 calories for every 30 minutes spent on the dance floor.

What they fail to mention is just how great a laugh it is. Salsa dancing is seriously good fun!

I mean, how many other workouts can you enjoy without feeling the slightest bit guilty of drinking a G&T while you're doing it!

It's also seriously sociable and immeasurably more preferable to a mid-week night in front of the telly. For singles it also has to be Swindon's best kept secret!

It was an evening that truly opened my eyes - and completely banished my preconceptions of middle-age couples and damp church halls.

And, oh yes, the moves? I nearly forgot.

They were easy - and brilliantly taught. And believe me, I'm the world's worst dancer!