Date added: 11 June 2007
Skid car - a SwindonWeb Adventure
Nothing to do in Swindon? Think again!

In our latest series of SwindonWeb adventures we've been out and about finding things to do that are just a little more exciting than the usual.
Things that are a: not neccessarily the type of fun activity you may associate with our lovely home town and b: something which we can film some humiliating video of someone trying out.
Part Six: Actiondrome
with our lady behind the wheel, Kirsty Heber-Smith

We've had some hairy moments in our SwindonWeb Minis over the years - so when we got offered the opportunity to learn the skills needed to control a car in bad weather, we jumped at the chance!

Well, that was until they gave the assignment to me!
Safety first:
trying to feel calm and confident behind the wheel

Now, since I have worked for SwindonWeb I have managed to grab all the nicest jobs I knew I would enjoy - whether it was a bit of salsa dancing, relaxing with yoga or a spot of scuba diving.

But when my boss handed this mission to me, memories of writing-off my past four cars came flooding back.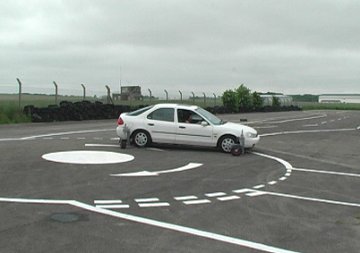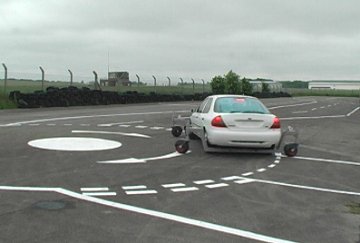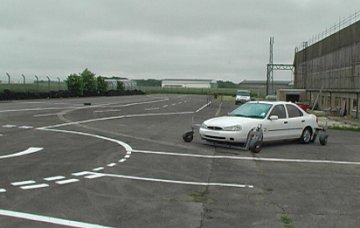 ...gone:


not quite the driving skills you see everyday

I'm not saying I'm a bad driver - but when those bollards jump out at you like they do - I'm inclined to hit them.

So, as you can imagine when the Friday morning came around to venture up to Wroughton Airfield, the nerves began to set in. Surely not write-off number five?!

Thoughts that didn't go away when I was told I'd be spending an hour speeding, skidding and sliding in someone else's car.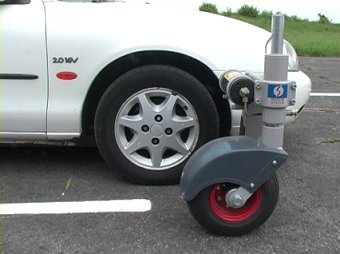 Just like learning to ride a bike - stabilisers:
skid car frame which allows you to experience
different weather conditions
But after passing the initial safety test: '... are you pregnant, mentally incapacitated or suffer from a bad back?' I was raring to go, despite my doubts.

This suddenely looked - and sounded - like fun. And it was!
No sooner had I been briefed that I was in complete safety while being completely out of control, I was more than happy to give it my all.

In simulated icy conditions my first hour of fun starting in fine style with a complete 360 degree spin while attempting to go round a roundabout at just 20 miles per hour!

Not that I was worried. It was our cameraman in the back seat who was taking the biggest risk - of throwing up! His camera work taking a distinct dive in quality after three spins and an emergency stop.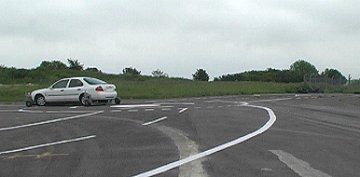 Let's off-road!:


out of control, heading for the grass verge

"I think I'll go and do some footage outside, if that's ok," his quiet response to being catapulted from side to side through my antics at the wheel.

Car capers that I have to say were an eye-opener to say the least. To think that I could lose control of a car so completely at such low speed came as a massive shock.

And the fact that I could regain command of the car just by slowing down even more of a surprise. The experts aren't wrong when they say speed is a killer - especially when it's icy.
The innocent corner that sent me in to a tail spin at 20 mph, easily conquered at 10 mph. Even with the instructor trying his best to swing the back end round to catch me out.

I was learning. Or so I thought.

I was about to discover something that went completely against my driving instincts when in an emergency situation - my impulse to brake.

Max putting me in two nightmare situations - losing control in a corner when going too fast and skidding when braking - that changed my perception of driving completely.

Putting your foot on the brake can be the worst thing to do! A rule perfectly emphasised as I ran wide under braking on my first go at negotiating a simple corner - and skidding onto the grass on my second. And I was only doing 30 mph.

Both situations avoidable by simply lifting off the accelerator as soon as I felt the car go from under me - not just slamming my foot down on the centre pedal and hoping.

The results of which spoke for themselves. My driving technique dramatically improved just by reacting in a different way.

A scenario perfectly summed up by Max as I safely brought the car to a halt in the way he wanted me to.

"Next time you're out on the road, it could be a child jumping out in front of you.

"And after today, you might just be able to avoid them."

I couldn't have put it better myself.