Date added: 10 January 2007
Pole Dancing - a SwindonWeb Adventure
Pole position
Swinging to get fit with Kirsty Heber-Smith... and friends!

In the past, pole dancing was largely confined to the world of lap dancing bars and night clubs - but not anymore.

Swap the seedy image to one that can improve your fitness and flexibility - as well as having fun at the same time - and you will discover a new skill.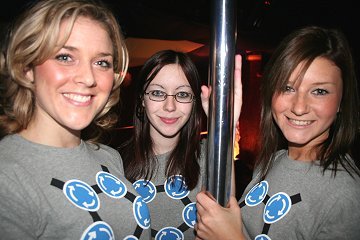 suitably attired, we get set to pole dance!
But, of course, this was not my first reaction when it was suggested that I gave it a go for our 'New Year, New You' programme.

No, that was more 'do I really have to?' But when two other of my collegues here at SwindonWeb Towers piped up 'we'll have a go!' I thought 'why not?'

So, as someone who never turns down a challenge, we headed off in our SwindonWeb Minis with the words 'gyration' and 'sexploitation' going round my head, and I began to wonder if I would be spending the afternoon in a basement with a handful of fit blonde girls teaching me a skill I would only use in the privacy of my own home.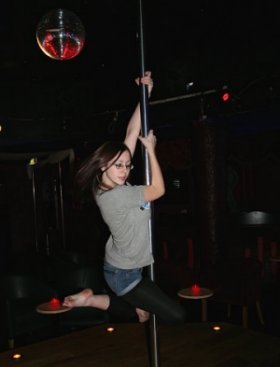 Vicki shows she is already a pro
But as we arrived at FoxiesXtreme, we soon realised the environment we had envisaged was totally different.

Firstly, we were greated by the friendly faces of Dave Broome and his partner Jody with their 8 month old son, who immediately calmed our nerves.

And, most reasurringly, there were no men to catch a sneaky preview. And certainly none about to stick ten pound notes down our panties!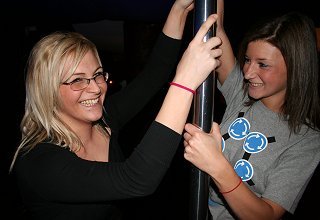 Learning from the pro:
Jodie helps me get a feel for
the pole - mmm, which is
already quite slippery!
Soon, we were straight at it.

As we warmed up, Jody talked us through the basic principles and demonstarted some simple moves to get us started.

First we tried a spin called 'The Cheerleader' that saw both of our legs off the ground, a move that saw us float around the pole 'gracefully' (or not, as the case may be, when it came to me).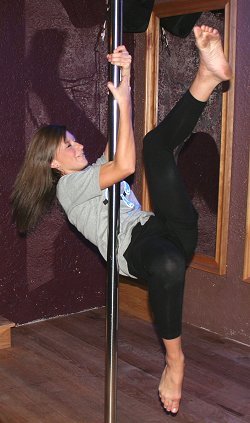 Up and away:


my first go at looking a
complete prat!
My two work pals clutching the pole and manuevining themselves like they been doing it for years!

But, after a few more attempts, however, I shrugged off my ugly sister label and finally got the hang of it.

Apart from the odd fumble and mis-timed move, Jodie, our instructor, so impressed we were even allowed to give it a go on the main stage - well almost!

A place we all - most worringly! - felt quite at home. Certainly something I didn't think I'd be thinking when we first arrived.
Sisters are doing it for themselves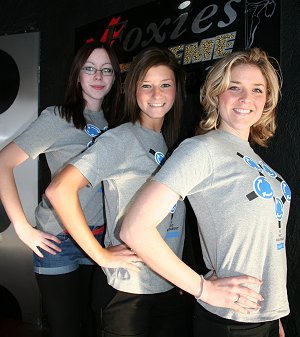 Coming soon to a club near you... maybe!
The whole experience having shed a completely new light on the skills involved in pole dancing - and how fit the girls have to be to do it.

Believe me, all three of us who tried it finding ourselves more than a little tender the following day. My arm muscles, especially, and my abs all aching as if I had done a damned hard work out.
"It's a great way to get fit," commmented Jodie, our instructor at Foxies Xtreme, "a good session on the pole can burn more calories than a good session in the gym, and will certainly provide more muscle tone."
"Our pole dancing classes are for women who'd like to learn to pole dance to get fit, have fun and learn a new, confidence-boosting skill!"