Date added: 09 January 2008
Ice Skating – a SwindonWeb Adventure
Gracing the ice with our resident Jayne Torvill,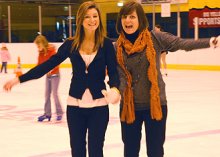 SwindonWeb girls Kirsty and Mel

try their hand - or feet -

In a new series of ways to make getting fit more exciting in 2008, we've swapped a hard slog in the gym for an action-packed session on the ice!

Here at SwindonWeb, we like a bit of office banter. And with my (sometimes unhealthy) competitive nature making me a regular target, I was gently persuaded to put my abilities to the test.
Naturally, I
had
to succeed.

With the new year upon us, and resolutions about keeping fit already fading in to the distance, I felt it was time to try something a little bit different.

My unrequited love for Kyran Bracken had me fixated when he took part in (and won) Dancing on Ice last year, and of course, my Sunday nights have never been the same since.

But with Gareth Gates starting in the line-up for the 2008 show this weekend, I feel like a little bit of that passion could be rekindled... sigh.
| | |
| --- | --- |
| | |
| | Mel soon got the handle of |

After endless jokes and weeks of taunting, I felt compelled to take the plunge and prove to my colleagues that I really can do anything!

So I decided to follow in the footsteps of my idols, and take to the ice.

As we bundled in to the SwindonWeb mini and arrived at the Link Centre in West Swindon, the nerves took over.
My reputation was at stake here.

But hey, if a big burly rugby player can pirouette on ice, it should be a walk in the park for me – shouldn't it?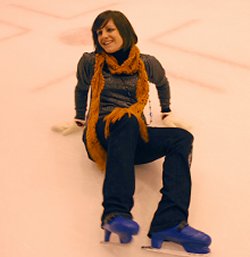 It's the taking part that counts:
Mel falls to the floor - again!
After a few wobbly moments and a couple of close encounters with the ice, I soon realised that wasn't the case.

And much to the pleasure of my colleagues at SwindonWeb Towers, I had to admit that it isn't quite as easy as Kyran made it look.

But there's no question that with professionals on hand for personal training sessions, including a former British champion, there's no better place to get your skates on and give it a go.

Even if I'm not the next Jayne Torvill, it's great fun anyway!

Ice Skating 2008 - 08/01/2008
On the Rink
Just what is our Kirsty up to with the Swindon Wildcats?...