Santa's Grotto 2018
Ho! Ho! Ho! Santa's in Swindon!
And you won't find no grey-bearded, cigarette smokin', boozin' santas in our town!

It's only the best for our boys and girls - and here's where you'll find him.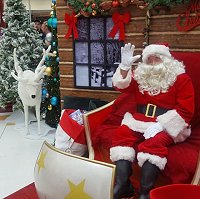 Santaís Grotto is back this year and itís going to be better than ever!

Bring your children to meet Santa and his Elves for FREE in his Grotto, receive a present and have the opportunity to purchase a photo of your little elves on these dates:
Santaís Grotto will be located on the upper level of The Plaza between M&S and Boots.

Just turn up or book in advance via The Brunel's website.
Every Saturday in December
Breakfast with Santa is also available at The Brunel on every Saturday in December.. Tickets are £4 per child and include a snack and drink for your little Elf and a coffee or tea for one parent.
Sevenhampton, near Highworth
From Saturday 01 December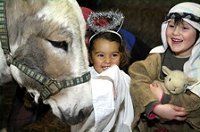 Join the festive fun down on the farm! Christmas activities on the farm start from Saturday 01 December, when Father Christmas will take up residency in his grotto.
Delight in Roves Farmís very own unique Christmas Nativity Story - complete with four legged farmyard friends!
For more details and times please click on the link below.
Arkell's Brewery, Kingsdown
Saturday 01 December 2018
In addition to a myriad of stalls selling gifts, a special Santa's Grotto has been built for Father Christmas himself, his elves and his reindeer.
Christmas at STEAM Museum
In a cosy fireside setting inside STEAM's Hawksworth Hall, children will love to hear delightful festive tales at Santa's Storytime sessions before receiving a special wrapped gift.

Please note, there is also an admission fee for entry into the STEAM museum.
HO! HO! HO! - SPECIAL SANTA EVENTS
Swindon & Cricklade Railway
Swindon & Cricklade Railway
Santa Specials offer the chance to take children for a ride on a steam train and meet Santa in his Grotto!
There will be presents to suit all ages from toddlers to early teens.
Please see the Swindon & Cricklade Railway website for more information on dates, times and tickets.
Father Christmas Needs A Wee!
Includes a meet and greet with Santa & a FREE gift!
Tickets: £14.00 - £17.00 + family offers.
There are Santa's Grotto at Wyvevale's two Swindon garden centres + Lechlade.