Santa's Grotto
Ho! Ho! Ho! Santa's in Swindon!
And you won't find no grey-bearded, cigarette smokin', boozin' santas in our town!

It's only the best for our boys and girls - and here's where you'll find him.
17 November - 24 December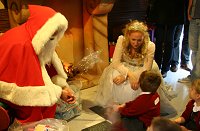 Find Santa in his Grotto on the top floor of the Brunel Plaza between Boots and Marks & Spencer.
A visit costs £4.50 and includes a present, certificate and photograph opportunity.

Monday - 12.00pm - 5.00pm
Tuesday - 12.00pm - 5.00pm
Wednesday - 12.00pm - 5.00pm
Thursday - 12.00pm - 6.30pm
Friday - 12.00pm - 5.00pm
Saturday - 12.00pm - 5.30pm
Sunday - 10.30am - 4.30pm
To book please visit The Brunel's website
Santa will be in his magical Grotto, accompanied by one of his Elves on Saturday 06 December and Sunday 07 December.
For a small charge they will make sure young children get a special surprise gift!
Please note, there is also an admission fee for entry into the STEAM museum.
Sevenhampton, near Highworth
From Saturday 06 December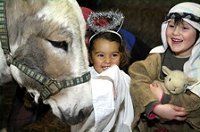 Join the festive fun down on the farm! Christmas activities on the farm start from Saturday 06 December, when Father Christmas will take up residency in his grotto.
Delight in Roves Farmís very own unique Christmas Nativity Story - complete with four legged farmyard friends!

The Elves' Workshop will be open for childrenís Christmas crafts. Children can also visit Mrs Christmas' Post Office to write and post their letters to Father Christmas OR they can give them to the man himself, when visiting his grotto!
Please note that season tickets are not valid for this event.
For more details and times please click on the link below.
>

Roves Farm

- website
HO! HO! HO! - SPECIAL SANTA EVENTS
Swindon & Cricklade Railway
Swindon & Cricklade Railway
Santa Specials offer the chance to take children for a ride on a steam train and meet Santa in his Grotto!
There will be presents to suit all ages from toddlers to early teens.
Special trains will be running
EVERY WEEKEND
plus other days from Saturday 29 November.
Please see the Swindon & Cricklade Railway website for more information on dates, times and tickets.