Christmas Trees and Decorations
How and where to make your Swindon home fit for Christmas
So will you be going for fake or real this year?
With Swindon right bang in the countryside, there are plenty of local farms offering real Christmas trees for sale - and more than a couple of garden centres with trees faker than Katie Price.
If you've got children actually buying the tree is all part of the excitement of getting ready for the 25th.
Big, small, bushy or skinny, Toomers in Swindon have been selling Christmas trees of all shapes and sizes for over a hundred years.
> Toomers

- website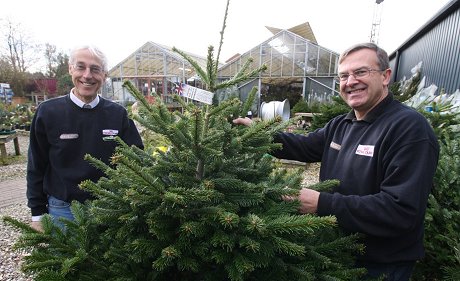 Just ask James or Nigel at Toomers and they'll find a Christmas tree perfect for you!
Studley Grange Garden Centre

Loads of trees, just off Jnct 16, M4
> Studley Grange
Sally Pussey's Inn
Pop to the pub - grab a Christmas tree! Just off Jnct 16, M4, as well.
> Sally Pussey's Inn
And when the festive season is over, don't leave your Christmas tree out in the cold! Do your bit for the environment and get it recycled.
Not forgetting our favourite essential item - mistletoe dangling in all the right places!
Quite obviously, you can't miss the tinsel and Christmas baubles on sale at your local Sainsbury's, but if you do want something a bit more authentic there are three shops nearby who sell the type of decorations that ooze just a little bit of class.
Funnily enough, a place you can buy Christmas decorations, nearly all of which are beautifully made and sourced from Germany and Czechoslovakia.
A shop that makes a real effort at Christmas with some really quirky and quality decorations in a dedicated Christmas room.
Studley Grange Craft Village
We like this idea. And at places like Sparkle Dreams and Pop in and Paint at Studley Grange, just off jnct. 16 you can design and make your own cards, festive banners and lots more - brilliant for kids.
Christmas Wreaths and flowers
There are times when a DIY Christmas just doesn't work and when it comes to flowers and a proper Christmas garland we recommend visiting your local flower shop.
They are bound to have a full range of festive foliage on offer.
May we suggest you pop down to Lydiard House over the Christmas period to see just how the Edwardians used to do it.
Open until the 4th January, the house has been adorned with traditional foliage and beautiful Christmas trees decorated with handmade decorations.
The intimate atmosphere of a family Christmas is recreated with stunning floral garlands, a festive feast laid out in the dining room and the aroma of foliage, oranges, cinnamon and cloves.