Date added: 26 January 2010
Swindon 3 Leeds 0
Coca-Cola League One
RESULT: Swindon Town 3 Leeds United 0
Town scorers: Austin 13, Paynter (2) 60, 63 (pen)

Town faced their toughest test of the season so far tonight - and came through with flying colours.
A second-half brace from Billy Paynter - after Charlie Austin's eighth in eight had given them a half-time lead - humbled a Leeds side still on the crest of an FA Cup wave.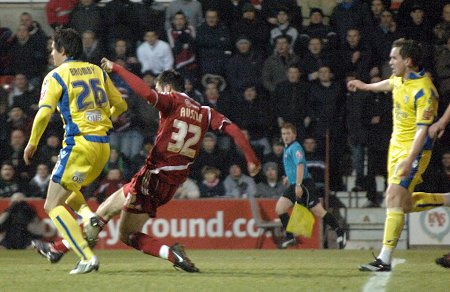 Goal machine:


Austin makes it 1-0
The League One leaders a poor shadow of the side that beat Man United earlier this month and dramatically drew at Spurs on Saturday - in stark contrast to Town who richly deserved the victory.
Current Swindon and ex-Leeds midfielder Jonathan Douglas rubbing salt into the wounds by being named 'Man of the Match'.
Town rise to 5th.

The top of the table:

1 Norwich 28 33 60
2 Leeds United 26 27 57
-------------------------
3 Charlton 27 20 54
4 Colchester 26 15 49
5 Swindon 25 8 47
6 Millwall 27 10 43
-------------------------
7 Huddersfield 25 19 42
8 MK Dons 27 4 42
9 Bristol Rovers 25 -2 38
10 Brentford 27 -3 34

NEXT TWO GAMES:

Southend (A)
Saturday, 30 January 2010
Coca-Cola Football League One
Saturday, 06 February 2010
Coca-Cola Football League One

Swindon 3 Leeds Utd 0 - 26/01/2010
Swindon 0 Millwall 1
Fans' agony, Austin in tears and FITTON FURIOUS - it's no Wembley dream for Town...

29 May 2010

Swindon 2 Charlton 1
Austin and Ward give Town the advantage - WATCH SWTV FANS' VIEW + MATCH PHOTOS...

Millwall 3 Swindon 2
Town to face Charlton in the play-off semis - first leg next Friday...

08 May 2010

Leeds 0 Swindon 3
Top two for Town as Paynter and Austin stun Leeds again...

03 April 2010

Swindon 1 Norwich 1
Last-gasp Greer caps brilliant week for Town - SWTV FANS' VIEW + MATCH PHOTOS....

Brighton 0 Swindon 1
Austin steps up to give Town back their confidence despite first-half injuries...

13 March 2010

Orient 0 Swindon 0
Wilson settles for a point despite call for late penalty...

27 February 2010

Swindon 2 Carlisle 0
Paynter & Austin on target again but late Greer injury a worry - MATCH PHOTOS...

20 February 2010

Austin signs
Star striker commits to two-year deal at Town...

02 February 2010

Pericard signs
Swindon make their first major signing in the transfer window...

14 January 2010

Fulham 1 Swindon 0
Zamora the difference as Premiership quality proves too much...

02 January 2010

Charlton 2 Swindon 2
Town players gutted as nine-man Charlton score at the death...

26 December 2009

Swindon 1 Woking 0
No shock as Paynter sends Town into the second round...

07 November 2009

Brentford 2 Swindon 3
New striking line-up reaps rewards as Town hang on in a thriller...

03 October 2009

Walsall 1 Swindon 1
Paynter penalty saves a point as unbeaten run extends to nine...

19 September 2009

Swindon 2 Southend 1
Town's good form continues as they take all 3 points this Bank Holiday...

29 August 2009

Oldham 2 Swindon 2
Last second equaliser denies Town after frantic finish...

22 August 2009