Date added: 20 February 2010
Swindon 2 Carlisle 0
Coca-Cola League One
RESULT: Swindon Town 2 Carlisle 0
Town scorers: Austin 31, Paynter 54
| | |
| --- | --- |
| | sorry, no fans' view today - back on Tuesday |

A worrying injury to defender Gordon Greer took the shine off another convincing home win for Town.
The captain, who alongside man-of-the-match Sean Cuthbert snuffed out any Carlisle threat, limped off with five minutes to go with an ankle injury.
"We hope it's just a twist," commented Danny Wilson, "because that was a superb defensive display from us today and we'll need him on Tuesday."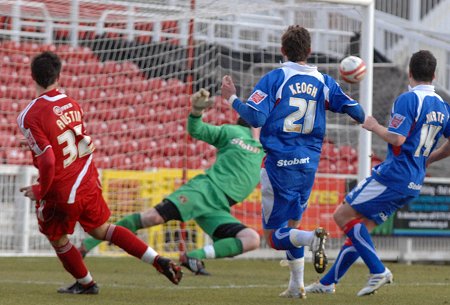 number 13 from Austin (above)
followed by number 20 from Billy Paynter,
who then celebrated sumo-style with Alan Sheehan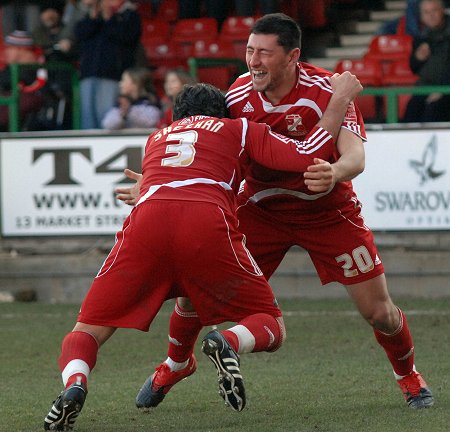 The win set up by goals 32 and 33 from Swindon's in-form strikeforce of Austin and Paynter.
The first an individual effort from Austin, his thirteenth of the season, before Paynter flicked home the all important second goal (see first pic below) after an excellent delivery from Alan Sheehan.
The win extends Town's unbeaten run to eleven and maintains their strong fifth position in League One.

The top of the table:

1 Norwich 32 32 66
2 Leeds United 31 28 63
------------------------
3 Colchester 32 18 62
4 Charlton 32 21 60
5 Swindon 30 12 56
6 Huddersfield 31 23 54
------------------------
7 Millwall 31 12 52
8 MK Dons 31 3 49
9 Walsall 31 3 43
10 Bristol Rovers 31 -9 42
NEXT TWO GAMES:
Stockport (H)

Tuesday, 23 February 7:45pm
Coca-Cola Football League One
Leyton Orient (A)
Saturday, 27 February 3:00pm
Coca-Cola Football League One

Swindon v Carlisle - 20/02/2010
Swindon 0 Millwall 1
Fans' agony, Austin in tears and FITTON FURIOUS - it's no Wembley dream for Town...

29 May 2010

Swindon 2 Charlton 1
Austin and Ward give Town the advantage - WATCH SWTV FANS' VIEW + MATCH PHOTOS...

Millwall 3 Swindon 2
Town to face Charlton in the play-off semis - first leg next Friday...

08 May 2010

Leeds 0 Swindon 3
Top two for Town as Paynter and Austin stun Leeds again...

03 April 2010

Swindon 1 Norwich 1
Last-gasp Greer caps brilliant week for Town - SWTV FANS' VIEW + MATCH PHOTOS....

Brighton 0 Swindon 1
Austin steps up to give Town back their confidence despite first-half injuries...

13 March 2010

Orient 0 Swindon 0
Wilson settles for a point despite call for late penalty...

27 February 2010

Austin signs
Star striker commits to two-year deal at Town...

02 February 2010

Swindon 3 Leeds 0
Onwards and upwards, Town stun the League leaders - WATCH SWTV FANS' VIEW

Pericard signs
Swindon make their first major signing in the transfer window...

14 January 2010

Fulham 1 Swindon 0
Zamora the difference as Premiership quality proves too much...

02 January 2010

Charlton 2 Swindon 2
Town players gutted as nine-man Charlton score at the death...

26 December 2009

Swindon 1 Woking 0
No shock as Paynter sends Town into the second round...

07 November 2009

Brentford 2 Swindon 3
New striking line-up reaps rewards as Town hang on in a thriller...

03 October 2009

Walsall 1 Swindon 1
Paynter penalty saves a point as unbeaten run extends to nine...

19 September 2009

Swindon 2 Southend 1
Town's good form continues as they take all 3 points this Bank Holiday...

29 August 2009

Oldham 2 Swindon 2
Last second equaliser denies Town after frantic finish...

22 August 2009