Date added: 23 February 2010
Swindon 4 Stockport 1
Coca-Cola League One
RESULT: Swindon Town 4 Stockport County 1
Town scorers: Ward 4, Paynter (2) 45, 79, Ferry 74
Stockport scorer: Tansey 45+3

Goals at all the right times lifted Town within a point of Charlton in fourth place with games in hand.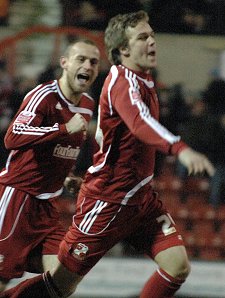 Danny Ward gave Swindon the perfect start after only four minutes before Billy Paynter grabbed number twenty-one of the season - only for Stockport to reply straight after.
But after a period of play where the bottom side could have levelled, Town stepped up a gear with two goals in five minutes.
The first from the unlikely head of Simon Ferry on 74 minutes, before Paynter doubled his tally.

"We had to work hard for that this evening," commented Danny Wilson, "because there was a period when we were second best."
"But we responded in the right manner and I'm very pleased with that."
The win extends Town's unbeaten run to twelve games.

The top of the table:

1 Norwich 33 33 69
2 Leeds United 32 30 66
--------------------------
3 Colchester 32 18 62
4 Charlton 33 20 60
5 Swindon 31 15 59
6 Huddersfield 32 25 57
--------------------------
7 Millwall 32 14 55
8 MK Dons 32 1 49
9 Walsall 32 2 43
10 Bristol Rovers 31 -9 42
NEXT FEW GAMES:
Leyton Orient (A)

Saturday, 27 February 3:00pm
Coca-Cola Football League One
Saturday, 6 March 2010 1:00pm
Coca-Cola Football League One

Tuesday, 9 March 2010 7:45pm
Coca-Cola Football League One
Brighton (A)
Saturday, 13 March 2010 3:00pm
Coca-Cola Football League One
Southampton (A)
Tuesday, 16 March 2010 7:45pm
Coca-Cola Football League One
Norwich (H)
Saturday, 20 March 2010 3:00pm
Coca-Cola Football League One
Hartlepool (A)
Saturday, 27 March 2010 3:00pm
Coca-Cola Football League One


Swindon v Stockport - 23/02/2010
Swindon 0 Millwall 1
Fans' agony, Austin in tears and FITTON FURIOUS - it's no Wembley dream for Town...

29 May 2010

Swindon 2 Charlton 1
Austin and Ward give Town the advantage - WATCH SWTV FANS' VIEW + MATCH PHOTOS...

Millwall 3 Swindon 2
Town to face Charlton in the play-off semis - first leg next Friday...

08 May 2010

Leeds 0 Swindon 3
Top two for Town as Paynter and Austin stun Leeds again...

03 April 2010

Swindon 1 Norwich 1
Last-gasp Greer caps brilliant week for Town - SWTV FANS' VIEW + MATCH PHOTOS....

Brighton 0 Swindon 1
Austin steps up to give Town back their confidence despite first-half injuries...

13 March 2010

Orient 0 Swindon 0
Wilson settles for a point despite call for late penalty...

27 February 2010

Swindon 2 Carlisle 0
Paynter & Austin on target again but late Greer injury a worry - MATCH PHOTOS...

20 February 2010

Austin signs
Star striker commits to two-year deal at Town...

02 February 2010

Swindon 3 Leeds 0
Onwards and upwards, Town stun the League leaders - WATCH SWTV FANS' VIEW

Pericard signs
Swindon make their first major signing in the transfer window...

14 January 2010

Fulham 1 Swindon 0
Zamora the difference as Premiership quality proves too much...

02 January 2010

Charlton 2 Swindon 2
Town players gutted as nine-man Charlton score at the death...

26 December 2009

Swindon 1 Woking 0
No shock as Paynter sends Town into the second round...

07 November 2009

Brentford 2 Swindon 3
New striking line-up reaps rewards as Town hang on in a thriller...

03 October 2009

Walsall 1 Swindon 1
Paynter penalty saves a point as unbeaten run extends to nine...

19 September 2009

Swindon 2 Southend 1
Town's good form continues as they take all 3 points this Bank Holiday...

29 August 2009

Oldham 2 Swindon 2
Last second equaliser denies Town after frantic finish...

22 August 2009