Date added: 20 March 2010
Swindon 1 Norwich 1
Coca-Cola League One

RESULT: Swindon Town 1 Norwich City 1

Swindon scorer: Greer 90+2
Norwich scorer: Holt 52

Gordon Greer capped a brilliant week for Town fans, as his last-minute header secured a point against the League leaders.
The captain nodded home at the death in front of the Town End after Swindon fought back from going behind to a Grant Holt effort just after the break.
"I thought our performance against Southampton [on Tuesday] was superb, and in many ways this matched it," commented Danny Wilson.
"We never gave up and fully deserved what we got out of the game."
Town stay 4th.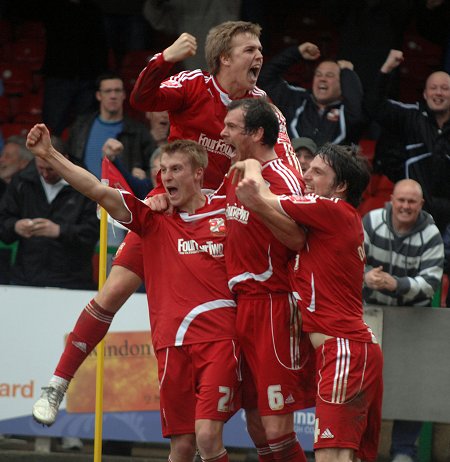 Gordon Greer (centre) and Town players
celebrate their injury time equaliser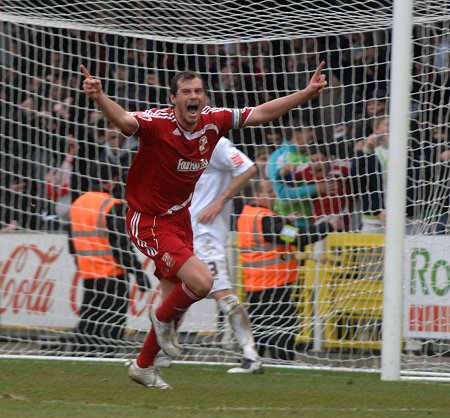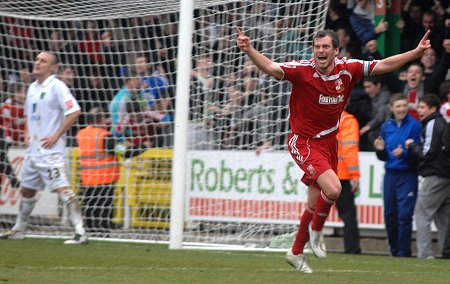 The top of the League One table:
1 Norwich 37 39 79
2 Leeds United 36 32 71
--------------------------
3 Charlton 37 19 67
4 Swindon 37 12 67
5 Millwall 36 21 65
6 Colchester 36 15 63
--------------------------
7 Huddersfield 37 18 61
8 MK Dons 37 -1 56
9 Bristol Rovers 37 -1 55
10 Southampton 36 28 50
NEXT GAME:
Hartlepool (A)

Saturday, 27 March 2010 3:00pm
Coca-Cola Football League One

Swindon 0 Millwall 1
Fans' agony, Austin in tears and FITTON FURIOUS - it's no Wembley dream for Town...

29 May 2010

Swindon 2 Charlton 1
Austin and Ward give Town the advantage - WATCH SWTV FANS' VIEW + MATCH PHOTOS...

Millwall 3 Swindon 2
Town to face Charlton in the play-off semis - first leg next Friday...

08 May 2010

Leeds 0 Swindon 3
Top two for Town as Paynter and Austin stun Leeds again...

03 April 2010

Brighton 0 Swindon 1
Austin steps up to give Town back their confidence despite first-half injuries...

13 March 2010

Orient 0 Swindon 0
Wilson settles for a point despite call for late penalty...

27 February 2010

Swindon 2 Carlisle 0
Paynter & Austin on target again but late Greer injury a worry - MATCH PHOTOS...

20 February 2010

Austin signs
Star striker commits to two-year deal at Town...

02 February 2010

Swindon 3 Leeds 0
Onwards and upwards, Town stun the League leaders - WATCH SWTV FANS' VIEW

Pericard signs
Swindon make their first major signing in the transfer window...

14 January 2010

Fulham 1 Swindon 0
Zamora the difference as Premiership quality proves too much...

02 January 2010

Charlton 2 Swindon 2
Town players gutted as nine-man Charlton score at the death...

26 December 2009

Swindon 1 Woking 0
No shock as Paynter sends Town into the second round...

07 November 2009

Brentford 2 Swindon 3
New striking line-up reaps rewards as Town hang on in a thriller...

03 October 2009

Walsall 1 Swindon 1
Paynter penalty saves a point as unbeaten run extends to nine...

19 September 2009

Swindon 2 Southend 1
Town's good form continues as they take all 3 points this Bank Holiday...

29 August 2009

Oldham 2 Swindon 2
Last second equaliser denies Town after frantic finish...

22 August 2009