Date added: 05 April 2010
Swindon 3 Tranmere 0
Coca-Cola League One

RESULT: Swindon Town 3 Tranmere Rovers 0

Swindon scorers: Gordon OG 10, Paynter (pen) 37, Austin 56

Tranmere handed the game to Town with an early own-goal and a professional foul on Charlie Austin.
The second offence the more serious for the visitors as Terry Gornall was dismissed for his calf scrape on the Swindon scorer as both waited for a corner just before half-time.
The resulting penalty dispatched by Billy Paynter as comprehensively as Town dominated the game.
The win sealed by Austin with a typical turn and finish that's become the former non-league striker's trademark this season. His 18th of the season capping another fine performance.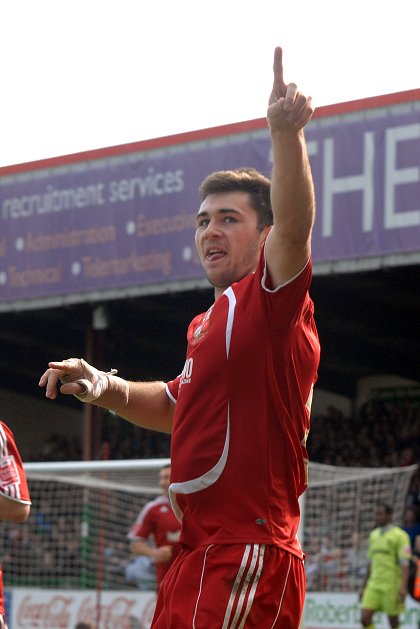 Charlie Austin salutes after scoring Town's third
and his 18th of the season
"The penalty settled it for us," commented Danny Wilson, "and allowed me the chance to rest a couple of players after we got the third."
Frank Nouble, the second-half replacement for Bill Paynter, unlucky not to improve Town's goal difference with two late chances, one which hit the post.
Town stay second, still ahead of Leeds, Millwall and Charlton, who all won.

The top of the League One table:
1 Norwich 40 39 85
2 Swindon 40 19 76
-------------------------
3 Millwall 40 29 75
4 Leeds United 40 27 74
5 Charlton 40 21 74
6 Huddersfield 39 19 65
-------------------------
7 Colchester 40 12 65
8 Bristol Rovers 40 -1 61
9 Southampton 39 30 57
10 MK Dons 40 -3 57
REMAINING GAMES:
Colchester (A)

Saturday, 10 April 2010 3:00pm
Coca-Cola Football League One
Exeter (H)

Monday, 12 April 2010 7:45pm
Coca-Cola Football League One
Walsall (H)
Saturday, 17 April 2010 3:00pm
Coca-Cola Football League One
Wycombe (A)
Saturday, 24 April 2010 3:00pm
Coca-Cola Football League One
Brentford (H)
Saturday, 1 May 2010 3:00pm
Coca-Cola Football League One
Millwall (A)

Saturday, 08 May 2010 3:00pm
Coca-Cola League One

Swindon v Tranmere - 05/04/2010
Swindon 0 Millwall 1
Fans' agony, Austin in tears and FITTON FURIOUS - it's no Wembley dream for Town...

29 May 2010

Swindon 2 Charlton 1
Austin and Ward give Town the advantage - WATCH SWTV FANS' VIEW + MATCH PHOTOS...

Millwall 3 Swindon 2
Town to face Charlton in the play-off semis - first leg next Friday...

08 May 2010

Leeds 0 Swindon 3
Top two for Town as Paynter and Austin stun Leeds again...

03 April 2010

Swindon 1 Norwich 1
Last-gasp Greer caps brilliant week for Town - SWTV FANS' VIEW + MATCH PHOTOS....

Brighton 0 Swindon 1
Austin steps up to give Town back their confidence despite first-half injuries...

13 March 2010

Orient 0 Swindon 0
Wilson settles for a point despite call for late penalty...

27 February 2010

Swindon 2 Carlisle 0
Paynter & Austin on target again but late Greer injury a worry - MATCH PHOTOS...

20 February 2010

Austin signs
Star striker commits to two-year deal at Town...

02 February 2010

Swindon 3 Leeds 0
Onwards and upwards, Town stun the League leaders - WATCH SWTV FANS' VIEW

Pericard signs
Swindon make their first major signing in the transfer window...

14 January 2010

Fulham 1 Swindon 0
Zamora the difference as Premiership quality proves too much...

02 January 2010

Charlton 2 Swindon 2
Town players gutted as nine-man Charlton score at the death...

26 December 2009

Swindon 1 Woking 0
No shock as Paynter sends Town into the second round...

07 November 2009

Brentford 2 Swindon 3
New striking line-up reaps rewards as Town hang on in a thriller...

03 October 2009

Walsall 1 Swindon 1
Paynter penalty saves a point as unbeaten run extends to nine...

19 September 2009

Swindon 2 Southend 1
Town's good form continues as they take all 3 points this Bank Holiday...

29 August 2009

Oldham 2 Swindon 2
Last second equaliser denies Town after frantic finish...

22 August 2009