Date added: 29 April 2010
Kamara: 'The Lowest Point Of My Career'
Former Swindon star tells of race hate hell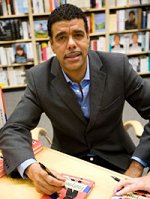 Fans' favourite Chris Kamara has spoken of the racist taunts he received as a player - including the abuse from a fellow professional that ultimately ruined his Town career.
Sometimes I'd lash out verbally and on one occasion I let myself down badly, which ended with me being the first player convicted of assault on the pitch,

the SKY Sports pundit told The Sun newspaper.
In 1988, when I was at Swindon, Shrewsbury striker Jim Melrose and I had a few words after he got a bang in the face in a midfield tussle, ironically off his team-mate Vic Kasule's knee.
Jim thought it was me and came at me aggressively at a corner.
There wasn't much contact but words were exchanged which resulted in me thumping him in front of everyone at the end of the game.
I thought I was being professional leaving it until then. As he celebrated scoring the winner in front of his fans at the final whistle, I sprinted the length of the pitch and hit him.
X-rays showed Jim had a depressed fracture of the cheekbone.
It ended my relationship with manager Lou Macari and I missed the rest of the season.
Worse came when I was convicted of GBH.
I couldn't play again until the court case was over and it was the lowest moment of my career.
Chris Kamara played 234 games for Town in the 1970s and 80s, scoring 27 goals. His first spell was from 1977-1981, before returning to play from 1985-1988.
His new book 'Mr Unbelievable' is out now, see link below.
Kamara on form
Sky star and former Town legend speaks to SWTV at De Vere Village...

Swindon 0 Millwall 1
Fans' agony, Austin in tears and FITTON FURIOUS - it's no Wembley dream for Town...

29 May 2010

Swindon 2 Charlton 1
Austin and Ward give Town the advantage - WATCH SWTV FANS' VIEW + MATCH PHOTOS...

Millwall 3 Swindon 2
Town to face Charlton in the play-off semis - first leg next Friday...

08 May 2010

Brian Clough
10 YEARS ON: "Now look here, young man" - Swindon Town's connection to old big 'ed...

Swindon 4 Arsenal 3
Giantkillers again. We chronicle Swindon's greatest night at the County Ground - incl. SWTV INTERVIEW WITH ANDY ROWLAND + WATCH TOWN GOALS...

A Day to Remember
50 YEARS AGO!Memories of Swindon Town's greatest day - the 1969 League Cup Final - 15 MARCH 1969 - WATCH VIDEOS