Date added: 01 May 2010
Swindon 3 Brentford 2
Coca-Cola League One

RESULT: Swindon Town 3 Brentford 2

Swindon scorers: Paynter 8, 58; Ward 45
Walsall scorer: Harris 33, Strevens 60

Town head to Millwall next week with a real chance of automatic promotion thanks to a brace from Billy Paynter.
With Leeds just a point ahead in second, Swindon can claim their place in the Championship if they win at the Den and Leeds fail to beat Bristol Rovers.
A winner-takes-all scenario Robins' manager Danny Wilson believes is possible - but not one he will be asking his players to dwell on in the days ahead.
"If only it were that simple," he joked after watching his side hang on for three vital points.
"But we all know what a big challenge it'll be for us next week at Millwall. They have the same opportunity as us but Leeds still hold all the cards.
"If they win they'll be nothing we can do."
Swindon struck after only eight minutes via the head of Billy Paynter, who nodded home after an excellent build up on the right with JP McGovern and Danny Ward.
A lead they could - and should have - doubled before Brentford equalised with a curling finish from Harris.
But after grabbing the lead back just before the break through Ward, and then increasing it with a second Paynter header on the hour, Town fell asleep to let Strevens make a game of it.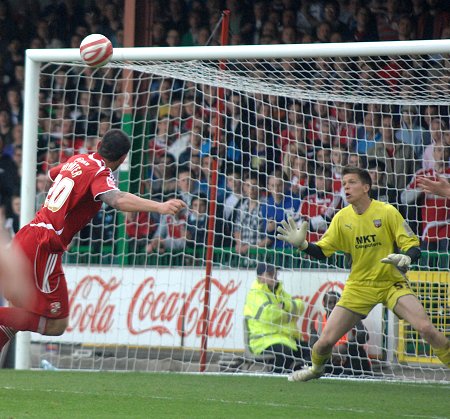 Billy Paynter heads Town's third
The last thirty minutes a nervous affair that saw Swindon hang on despite nearly 12 minutes of added time, following a period of lengthy treatment to Brentford's Pim Balkestein.
How they stand:
1 Norwich 45 44 95
2 Leeds United 45 32 83
------------------------
3 Millwall 45 31 82
4 Swindon 45 17 82
5 Charlton 45 21 81
6 Huddersfield 45 27 80
LAST GAME:
Millwall (A)
Saturday, 08 May 2010 3:00pm
Coca-Cola League One

Swindon v Brentford - 01/05/2010
Swindon 0 Millwall 1
Fans' agony, Austin in tears and FITTON FURIOUS - it's no Wembley dream for Town...

29 May 2010

Swindon 2 Charlton 1
Austin and Ward give Town the advantage - WATCH SWTV FANS' VIEW + MATCH PHOTOS...

Millwall 3 Swindon 2
Town to face Charlton in the play-off semis - first leg next Friday...

08 May 2010

Leeds 0 Swindon 3
Top two for Town as Paynter and Austin stun Leeds again...

03 April 2010

Swindon 1 Norwich 1
Last-gasp Greer caps brilliant week for Town - SWTV FANS' VIEW + MATCH PHOTOS....

Brighton 0 Swindon 1
Austin steps up to give Town back their confidence despite first-half injuries...

13 March 2010

Orient 0 Swindon 0
Wilson settles for a point despite call for late penalty...

27 February 2010

Swindon 2 Carlisle 0
Paynter & Austin on target again but late Greer injury a worry - MATCH PHOTOS...

20 February 2010

Austin signs
Star striker commits to two-year deal at Town...

02 February 2010

Swindon 3 Leeds 0
Onwards and upwards, Town stun the League leaders - WATCH SWTV FANS' VIEW

Pericard signs
Swindon make their first major signing in the transfer window...

14 January 2010

Fulham 1 Swindon 0
Zamora the difference as Premiership quality proves too much...

02 January 2010

Charlton 2 Swindon 2
Town players gutted as nine-man Charlton score at the death...

26 December 2009

Swindon 1 Woking 0
No shock as Paynter sends Town into the second round...

07 November 2009

Brentford 2 Swindon 3
New striking line-up reaps rewards as Town hang on in a thriller...

03 October 2009

Walsall 1 Swindon 1
Paynter penalty saves a point as unbeaten run extends to nine...

19 September 2009

Swindon 2 Southend 1
Town's good form continues as they take all 3 points this Bank Holiday...

29 August 2009

Oldham 2 Swindon 2
Last second equaliser denies Town after frantic finish...

22 August 2009