Date added: 29 May 2010
Swindon 0 Millwall 1
League One Play-Off Final
Wembley Stadium
RESULT: Swindon Town 0 Millwall 1
Millwall scorer: Robinson 39
A day that started full of such hope ended in play-off pain for Town's fans and players tonight - with none more heartbroken than Charlie Austin.
The Swindon striker was in tears at the final whistle after he missed Town's best chance to equalise Millwall's first-half opener.
But when the ball bobbled on the Wembley pitch just as a clean-through Austin was about to score - a piece of bad luck confirmed by a TV replay - the 21-year-old's dream moment turned into a nightmare as his shot flew wide.
The shocked look on the young forward's face mirrored by thousands of Robins' fans at Wembley and those back in Swindon watching at home and in pubs.
"I feel gutted for young Charlie," commented Danny Wilson, who has now lost two play-off finals, when asked about his marksman.
"But without his twenty goals this season we wouldn't even be here.
"We've had a great season and today just wasn't our day. They had the first half, we had the second.
"But I can tell you one thing. We'll all be back better and stronger for this despite us all being very disappointed with the outcome."
"The sooner we move the play-offs to the Millenium stadium, the better!"
said a forthright Andrew Fitton, the Town chairman, who was very critical of the pitch.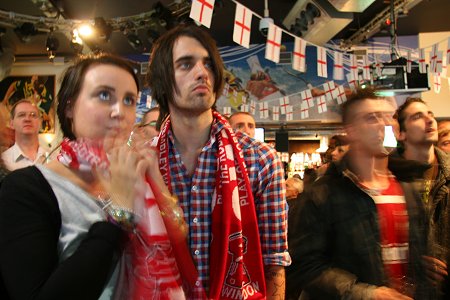 Town fans at TPs Bar in the town centre
Full report + pictures to follow.
01 Lucas
02 Cuthbert
03 Sheehan
15 Amankwaah
19 Jean-Francois Lescinel
04 Douglas
07 McGovern
24 Ward
30 Ferry
20 Paynter
32 Austin
Substitutes
12 Smith, 14 Morrison, 21 Darby, 08 Easton, 10 Timlin, 18 O'Brien, 05 Pericard

Swindon Play-Off Final Pub Fans - 29/05/2010
Swindon 2 Charlton 1
Austin and Ward give Town the advantage - WATCH SWTV FANS' VIEW + MATCH PHOTOS...

Millwall 3 Swindon 2
Town to face Charlton in the play-off semis - first leg next Friday...

08 May 2010

Leeds 0 Swindon 3
Top two for Town as Paynter and Austin stun Leeds again...

03 April 2010

Swindon 1 Norwich 1
Last-gasp Greer caps brilliant week for Town - SWTV FANS' VIEW + MATCH PHOTOS....

Brighton 0 Swindon 1
Austin steps up to give Town back their confidence despite first-half injuries...

13 March 2010

Orient 0 Swindon 0
Wilson settles for a point despite call for late penalty...

27 February 2010

Swindon 2 Carlisle 0
Paynter & Austin on target again but late Greer injury a worry - MATCH PHOTOS...

20 February 2010

Austin signs
Star striker commits to two-year deal at Town...

02 February 2010

Swindon 3 Leeds 0
Onwards and upwards, Town stun the League leaders - WATCH SWTV FANS' VIEW

Pericard signs
Swindon make their first major signing in the transfer window...

14 January 2010

Fulham 1 Swindon 0
Zamora the difference as Premiership quality proves too much...

02 January 2010

Charlton 2 Swindon 2
Town players gutted as nine-man Charlton score at the death...

26 December 2009

Swindon 1 Woking 0
No shock as Paynter sends Town into the second round...

07 November 2009

Brentford 2 Swindon 3
New striking line-up reaps rewards as Town hang on in a thriller...

03 October 2009

Walsall 1 Swindon 1
Paynter penalty saves a point as unbeaten run extends to nine...

19 September 2009

Swindon 2 Southend 1
Town's good form continues as they take all 3 points this Bank Holiday...

29 August 2009

Oldham 2 Swindon 2
Last second equaliser denies Town after frantic finish...

22 August 2009

Choice words
Town boss looks for a response after training ground 'discussion'...

10 August 2009

STFC press day
With four days to go, the Town players reveal all to SwindonWebTV...