Date added: 06 July 2010
Prutton agrees Town move
David Prutton agrees to terms on a Swindon Town free transfer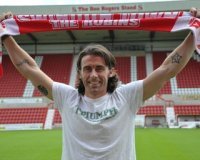 David Prutton has agreed terms on a two-year deal at Town with the option of a third season.
The former Southampton, Nottingham Forest and Leeds United player won 25 caps for England's Under-21 side.
The 28-year-old midfielder revealed yesterday at a press conference that Swindon was not the only club that were after him.

"There were options, but when I spoke to the lads here and the manager and weighed the whole thing up it seemed like a good place to be," commented Prutton.

"I played against the team last year, and I was impressed with the way the went about their game.
"I spoke to David Lucas who said nothing but good things, and Jonathan Douglas the same. They've said it was a good set of lads and a good set of footballers.
"I like the style of football Danny (Wilson) plays, it's always nice when people want to pass the ball, not only does it make it better football but it's a better game to watch.

"To be able to come to a club and hopefully add to what they have is a great feeling. You can hear about other interest, but once you've got your mind and your head set on a certain place then you're pretty made up it's a good a reason as any to stick with that because it feels right and will be the right decision for you at the time."
Last season the Hull-born playerat moved from Leeds to Colchester United on loan in January 2010.
2011/12 STFC Fixtures
New manager, new league, new fixtures! - UPDATE: OXFORD GAMES CHANGED...

24 June 2011

Swindon Town Spoof
Hilarious! Hitler's 'reaction' to Swindon's relegation - WATCH VIDEO (warning: contains bad language)...

Crisis Meeting
Hart close to walking after fans' fury and Fitton post-match 'discussion' - WATCH SWTV FANS' VIEW...

'Still Optimistic'
Exeter 1 Swindon 0 - 1/25 to go down, but Hart refuses to throw in the towel after disappointing defeat...

29 March 2011

Brighton 2 Swindon 1
Prutton wonder strike and penalty save still not enough as gap to safety increases to seven...

26 March 2011

Where now, boss?
Unlucky thirteen. Ex-Robin Fallon sends Town to the bottom of League One...

08 March 2011

Hart and Soul
Chairman & new manager promise to give their all in relegation fight - SWTV...

Swindon 0 Exeter 0
Austin sorely missed as Town draw a home blank again - WATCH SWTV FANS' VIEW...

Swindon 0 Tranmere 0
Austin misses a penalty as Town stop the rot - WATCH FANS' VIEW (incl. no sexist remarks!)...

Swindon 0 Yeovil 1
Rose off, Morrison gone, Austin unsettled + Town down to 19th - WATCH SWTV FANS' VIEW...

Bad Day For Wilson
Charlie still a Town player for now - but Morrison Reading-bound...

14 January 2011

Oldham 2 Swindon 0
Wilson 'frustrated' as Town crash back down to earth...

08 January 2011

Swindon 1 Bournemouth 2
Boos at the final whistle as lucklustre Town make poor start to the new year...

01 January 2011

Game On!
Swindon Town v Sheffield Wednesday beats the cold...

03 December 2010

Yeovil 3 Swindon 3
Gloom turns to joy as Town earn draw with two goals in last five minutes...

30 October 2010

Swindon 2 Orient 2
Ref blasted as Town struggle to find home form - WATCH SWTV FANS' VIEW....

Swindon 2 Torquay 0
Ball and Pericard on target as Town progress to round three...

05 October 2010

Carlisle 0 Swindon 0
Wilson pleased despite Austin missing a last-minute sitter...

04 September 2010