Date added: 04 August 2010
Town's new trio
Three latest signings for Swindon unveiled
With just a week to go to the new season, Town have unveiled three new signings.
Simon Ferry and Paul Caddis from Celtic and Togo International Thomas Dossevi.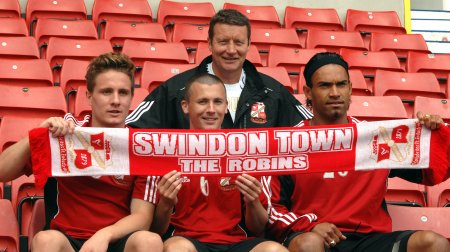 (l-r) Simon Ferry, Paul Caddis,Thomas Dossevi
with manager Danny Wilson
"It's a big boost to the squad," said a delighted Danny Wilson, "we know what Ferry can achieve and I have always been impressed when I have seen Caddis.
"Dossevi has impressed in pre-season and his Nottingham Forest performance [in which he scored twice] clinched it for me."
Town's first game is this Saturday 07 August at home against Brighton, kick-off 3pm.
2011/12 STFC Fixtures
New manager, new league, new fixtures! - UPDATE: OXFORD GAMES CHANGED...

24 June 2011

Swindon Town Spoof
Hilarious! Hitler's 'reaction' to Swindon's relegation - WATCH VIDEO (warning: contains bad language)...

Crisis Meeting
Hart close to walking after fans' fury and Fitton post-match 'discussion' - WATCH SWTV FANS' VIEW...

'Still Optimistic'
Exeter 1 Swindon 0 - 1/25 to go down, but Hart refuses to throw in the towel after disappointing defeat...

29 March 2011

Brighton 2 Swindon 1
Prutton wonder strike and penalty save still not enough as gap to safety increases to seven...

26 March 2011

Where now, boss?
Unlucky thirteen. Ex-Robin Fallon sends Town to the bottom of League One...

08 March 2011

Hart and Soul
Chairman & new manager promise to give their all in relegation fight - SWTV...

Swindon 0 Exeter 0
Austin sorely missed as Town draw a home blank again - WATCH SWTV FANS' VIEW...

Swindon 0 Tranmere 0
Austin misses a penalty as Town stop the rot - WATCH FANS' VIEW (incl. no sexist remarks!)...

Swindon 0 Yeovil 1
Rose off, Morrison gone, Austin unsettled + Town down to 19th - WATCH SWTV FANS' VIEW...

Bad Day For Wilson
Charlie still a Town player for now - but Morrison Reading-bound...

14 January 2011

Oldham 2 Swindon 0
Wilson 'frustrated' as Town crash back down to earth...

08 January 2011

Swindon 1 Bournemouth 2
Boos at the final whistle as lucklustre Town make poor start to the new year...

01 January 2011

Game On!
Swindon Town v Sheffield Wednesday beats the cold...

03 December 2010

Yeovil 3 Swindon 3
Gloom turns to joy as Town earn draw with two goals in last five minutes...

30 October 2010

Swindon 2 Orient 2
Ref blasted as Town struggle to find home form - WATCH SWTV FANS' VIEW....

Swindon 2 Torquay 0
Ball and Pericard on target as Town progress to round three...

05 October 2010

Carlisle 0 Swindon 0
Wilson pleased despite Austin missing a last-minute sitter...

04 September 2010