Date added: 21 December 2007
The deal is done
Christmas comes early for Town fans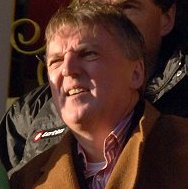 Andrew Fitton, who is now
Andrew Fitton has finally taken control at the County Ground.
After protracted talks, a conditional agreement was signed between parties representing Mr Fitton and his consortium and Town's leading shareholders, Sir Seton Wills and James Wills.
The deal - which 10 days ago was described as 'dead in the water' - will now hopefully pave the way for the club to pay off their mounting debts, which are believed to be in the region of £4 million.
The official STFC statement in full:
Swindon Football Holdings Limited announces that at 7pm on Thursday 20 December 2007, it entered into a conditional agreement to purchase 75% of the issued share capital of Swindon Town Football Company Limited (the Club).

The agreement is conditional on the vendors satisfying the purchasers on certain conditions (including matters relating to Shaw Park Developments and HR Revenue & Customs) not later than 11th January, 2008.

The purchasers will have an active involvement in the management of the Club with immediate effect.

Commenting, Andrew Fitton said: "I am pleased that we are nearly there. The hard work of reorganising the club will start immediately."
Mel Turner-Wright