Date added: 16 November 2007
Children in Need 2007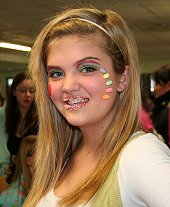 The cafeteria at New College was buzzing this lunchtime, as students took part in a number of fundraising competitions and events.

Students on the Media Make-Up course were on hand to paint faces - but there were no lions or butterflies in sight. Instead, faces were decorated with hundreds and thousands, icing and sweets.

Textiles Lecturer, Philomena Liston, said: "Everyone's been getting involved and having a great time, it's really great to see them all having so much fun."

"I'm not sure what the teachers think about it, but the students love it!"

Dressed in a Santa's outfit, Jack Tindall entertained the crowd of students as he conducted an auction – selling biscuits, sweets and all sorts of treats to the highest bidder.

It was clearly a sweet affair, and 15 year-old Amber Stasia continued the theme as she sang a delicious rendition of Alicia Keys' 'Fallin'.

With cakes and books on sale throughout the day too, the Students Union are hopeful that they have made a good contribution to the national event.

Across the other side of town, students at Swindon College were also getting involved – with everything from massages and waxes, to bouncy castles and fancy dress.

Sports and Fitness Physiotherapy students voted on the event they wanted to run, finally deciding on sports massages - which they offered to their fellow students for £3.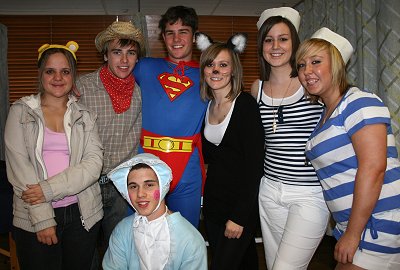 Sports and Fitness Physiotherapy students

Tom Farnell, who came up with the idea, told us: "We really wanted to do something for Children in Need, and massages were the best idea because we do them on our course."

Students of Sport and Outdoor Education went one step further, organising an event at the Oasis as part of their course. Activities included bungee-running, Gladiator-wrestling, a bouncy castle and a jumbo Jenga game.

But it wasn't just students who were getting involved. Staff from Student Services dressed up, and other members of staff also took part in head shaves and hair-dying yesterday.

So far they have raised over £800, although they are expecting to have raised quite a bit more.

Global mobility company, Cartus, could've been mistaken for Disneyland today, with staff dressed as their favourite characters.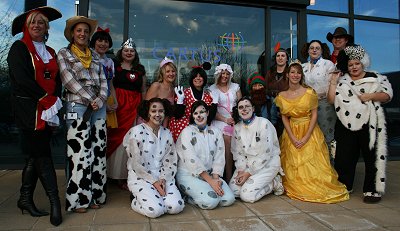 Cartus, Swindon or Disneyland, Florida?

And with all sorts of entertainment – from a balloon race to an office golf competition, there was a real sense of charity and fun.

Staff in one department also created a Pirates corner, although thankfully nobody was made to walk the plank.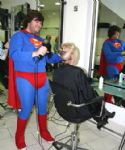 Staff at the Toni and Guy salon have been doing their bit for Children in Need as well – with their boss Chris Miller entertaining customers in a superman outfit.

Other members of staff, who came to work dressed in their pyjamas, spent the day collecting money outside their salon under The Parade, whilst selling bargain hair treatments in a novel way.

Claire Perrin told us: "We made up some balloons with a number from 1 to 4 in them, and depending on the number in their balloon, they could get 10% 0ff, 20% off, a hair cut or a cut and colour – all for £3!"

And their efforts certainly paid off, with an estimated £200 raised in just one day.
Mel Turner-Wright

Children in Need 2007 - 16/11/2007
A levels results
Agony and ecstasy as Swindon students get their grades...

20 August 2009

Top marks!
New College receives national praise...

11 January 2008