Date added: 23 November 2007
Swindon stands up
Schools and colleges across the town have been running events all week, in support of the national Anti-Bullying campaign.
On Thursday afternoon, Swindon Town's Christian Roberts, Hasney Aljofree, Craig Easton and Barry Corr took part in a group discussion with students from Swindon College, about the sensitive subject of bullying.

All four of the footballers recalled stories of being bullied, and how they dealt with it.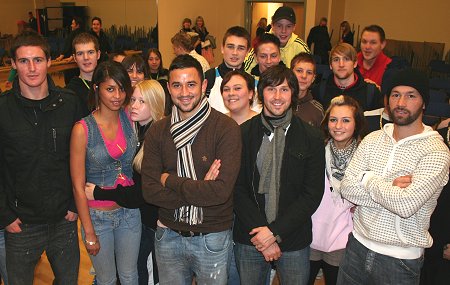 STFC players mixing with students
at the anti-bullying event at
Swindon College

Barry Corr admitted he had found it difficult moving from Ireland because his accent made him different, whilst Christian Roberts entertained the entire hall with stories of the weekend's match.

He said: "I was being called a 'gay boy' and everything, but the way I deal with it is just to laugh at them – that annoys bullies more than anything."

The college also organised a 'wall of commitment', which was made up of the signatures of every student and staff member, and is currently on display in their main reception.
St. Joseph's Community College
Martial Arts expert and former St. Joseph's pupil, Matt Fiddes, was back at his old school, to teach Year Seven pupils how martial arts helped him overcome bullies.

Swindon-born Fiddes, who moved from the school aged 14 after being continually bullied, said: "I went through hell at school, and it's really good to see so many pupils taking bullying seriously."

Fiddes had also promised a guest visit from Peaches Geldof, and although she was a no-show, she gave SwindonWeb an exclusive phone interview.

Geldof said: "I endorse anti-bullying campaigns because the media coverage can help stop bullies.

"I've never been a bully and I've never been bullied, but I still don't agree with it."

So with personalities across the town showing their support for the Anti-Bullying Campaign, Swindon is certainly prepared to beat the bullies.
Mel Turner-Wright
Anti-Bullying Week
Students tackle cyber-bullying for national campaign...

16 November 2009

Robbo Retires
Fans favourite forced to leave STFC...

26 September 2008