Date added: 24 November 2007
Seeing Red
Four-sent off as Town win - but is it Sturrock's last game in charge?
Saturday 17 November

Coca-Cola League One
RESULT: Swindon Town 1 Bristol Rovers 0



Swindon scorer: Roberts (pen) 67; sent-off: Ifil 82, Zaaboub 90
Bristol Rovers: sent-off: Walker 83, Elliott 84

Town secured all three points in the West Country derby as they saw off Bristol Rovers in an eventful match at the County Ground.
Before the game all the talk was about the future of Town boss Paul Sturrock, but unfortunately it was referee Rob Styles who stole the show in a game that saw five yellow and and four red cards.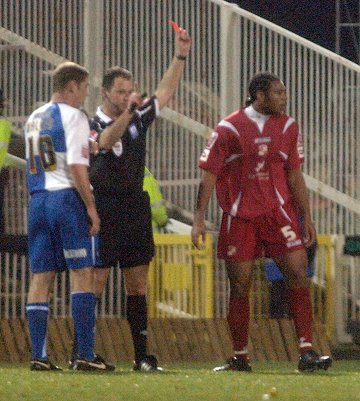 Jerel Ifil is the first to be sent-off by Rob Styles
However, despite it being a local derby, the card count doesn't truely reflect a game that wasn't any more heated that usual.
The first-half was fairly uneventful with neither side gaining the initiative in what were pretty atrocious conditions.
Rovers went closest in the opening minutes when Rickie Lambert smashed the ball against the Town crossbar.
The second-half saw all of the action including a goal; a disallowed effort; all nine cards - and some great goalkeeping from Swindon's Slovakian keeper Peter Brezovan.
The goal came from the penalty spot after Christian Roberts was sent tumbling in front of the Town End - he duly stepped up himself and slotted home the spot-kick to the delight of the home fans.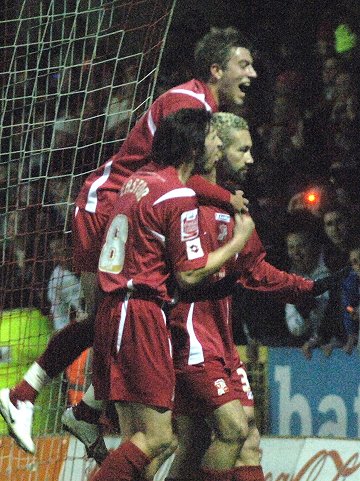 Michael Pook and Craig Easton climb all over
Christian Roberts after the striker converted
the all-important penalty
But with the game heading into the final ten minutes, an off the ball incident involving Jerel Ifil and Richard Walker resulted in both men receiving their marching orders.
In the mele that followed another Rovers player Steven Elliot was also show dismissed.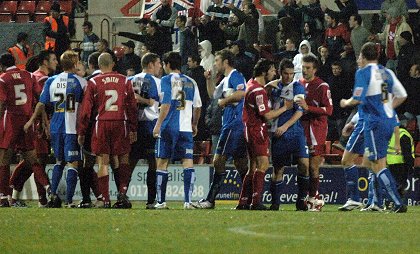 the mass confrontation that led to two Bristol Rovers
Last to be sent down the tunnel was Town substitute Sofi Zaaboub, who had barely been on the pitch two minutes when his mis-timed lunge was deemed serious enough for another straight red card when yellow seemed more than appropriate.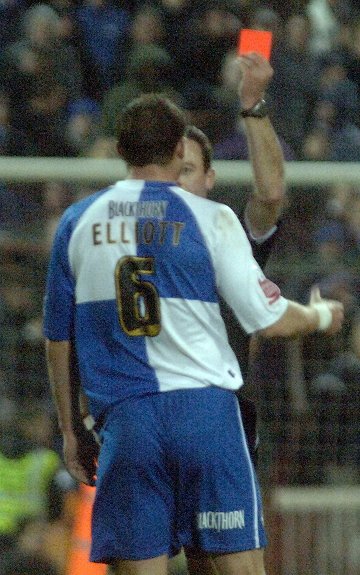 Steve Elliott gets his marching orders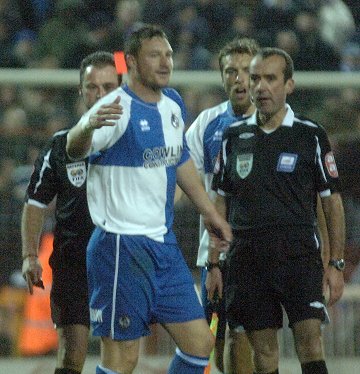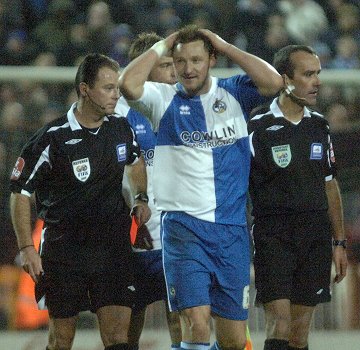 Rob Styles, by this time, jeered by both sets of supporters as well the Town and Rovers' management in the dug-out.
The referee also providing the final flury of excitment when he disallowed a goal from Rovers' Danny Coles late on to deny the visitors a share of the points.
The angry Rovers' fans requiring a police escort away from the County Ground, as tempers flaired at the final whistle.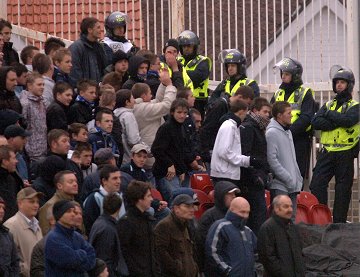 Britsol Rovers fans on the Stratton Bank
In the next few days the future of Paul Sturrock will no doubt be under scrutiny, but if he is to leave the County Ground then he has proved that this squad is capable of being serious play-off contenders.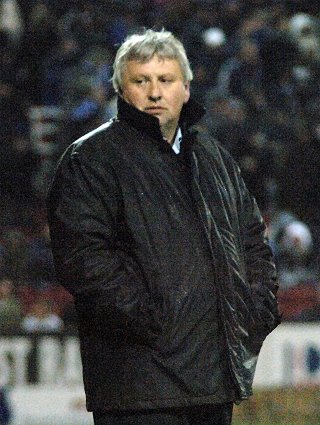 Should I stay, or should I go?:
Paul Sturrock refused to comment on reports
of an approach by Plymouth Argyle
1 Leyton Orient 17 0 31
2 Nottm Forest 16 18 30
------------------------
3 Carlisle 16 12 29
4 Swansea 16 10 28
5 Leeds 16 19 26
6 Doncaster 17 6 26
------------------------
7 Brighton 17 5 26
8 Southend 17 2 26
9 Tranmere 17 4 24
10 Walsall 17 2 24
11 Swindon 16 7 23
12 Crewe 17 -4 23
13 Huddersfield 17 -8 23
14 Yeovil 17 -4 22
15 Hartlepool 16 1 21
16 Oldham 16 0 19
17 Northampton 17 -4 19
18 Bristol Rovers 17 -5 19
19 Gillingham 17 -14 19
20 Millwall 17 -10 16
------------------------
21 Bournemouth 17 -13 13
22 Luton 17 -1 12
23 Port Vale 17 -11 12
24 Cheltenham 16 -12 12
Saturday, 01 December 2007
FA Cup 2nd Round


Swindon Town 1 Bristol Rovers 0 - 24/11/2007