Date added: 27 November 2007
Byrne handed the STFC hot seat
Following the sudden departure of Paul Sturrock and two of his backroom staff to Plymouth, Youth Team Coach Dave Byrne has been handed the reigns until further notice.

Byrne will be assisted by Club Captain Ady Williams as they look to keep Sturrock's good work on track.
"Paul didn't leave the ship going off course and I will just be looking to keep the rudder straight and continue as we are," said an optimistic Byrne.
However, he was the first to admit the the squad is severely depleated for the visit of Forrest Green on Saturday.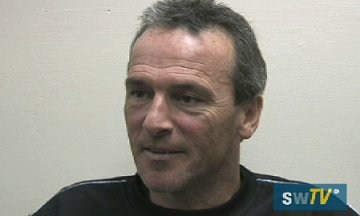 Dave Byrne:

In the hot seat
"The squad is down to the bare bones but hopefully a few of the injuries will improve, if not we might have to use a few of the young lads on the bench."
He also reiterated his commitment to the club amid reports of him following Sturrock to Plymouth.
"I owe Swindon Town alot for giving me my first opportunity in coaching and I'm happy to stay here and continue working hard for the club."
The club are believed to be waiting on the outcome of the proposed Andrew Fitton takeover bid before an decision is made on the managerial vacancy.
Seeing Red
Four off as Town beat Rovers - but is it Sturrock's last game?