Date added: 20 September 2007
Robins Rev Up for Charity
Robins Rev Up For Charity

20 September 2007

Town's push for points in League One took an interesting turn today.

The STFC players all putting their shoulder to the wheel to give a helping hand to two girls setting off on a charity trip around Europe.

Manager Paul Sturrock also hopeful that his team can follow suit and bump start their season on Saturday.

The Town boss confident that a home win against Bournemouth will be the beginning of a proseperous new journey for his players after four draws in the last six games has left them in mid-table.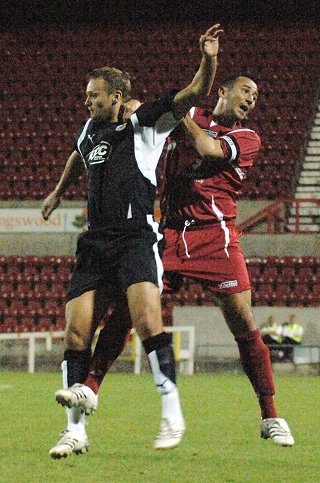 Set to miss out:


Captain Hasney Aljofree (seen here getting the
better of Lee Trundle in a pre-season friendly) will not
recover
from a knee injury in time for Saturday

The injury to captain Hasney Aljofree thankfully not putting a serious dent in team preparations. Defender Chris Blackburn the man stepping in to help steer the back-four.

"He's more than capable of filling in for Hasney," Sturrock told us, "so I'm not overly concerned in that area."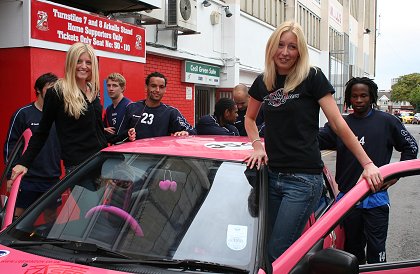 What a send off!:
Blondes Tami Brown (l) and Diana Shepherdson, who are about to embark
on a charity drive from Staples Corner in London to Naples in Italy in £50 car
i
n aid of
the Chemotherapy Ward at GWH and Cancer Research UK.
Tami, herself is in remission from cancer.
You can follow their progress via the website link below.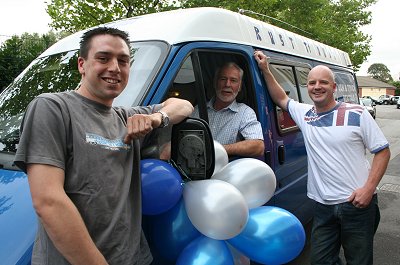 Lending support:
Tami and Diana are being helped on the trip by fellow entrants (l to r)
Russell Pawlings, 27, Brian Pawlings, 59, and Neil Ashford, 37,
AKA 'Rust to Dust'