Date added: 09 August 2007
STFC Press Day 2007
It's ready, steady, go at the County Ground.
The Swindon Town first team squad unveiled to the press today in advance of the new season, which starts in just two days time.
Both new signings and familiar faces looking forward to their League One campaign.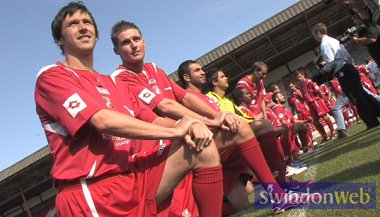 READY TO GO
Swindon Town media day 2007

"We're all dying to play and get started," Craig Easton, a summer transfer from Leyton Orient, told us.

"Training has gone really well and there's a great atmosphere here amongst the players. We all want to impress."

"I'm relishing the challenge," adding fans' favourite Lee Peacock.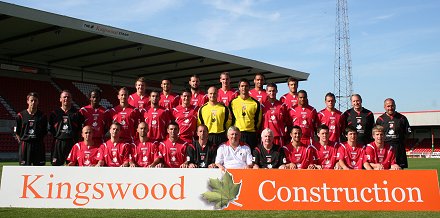 the 2007 Swindon Town squad
Manager Paul Sturrock also happy with pre-season preparations despite not adding to his squad as planned.
"Injuries have been a problem, as have a couple of signings that didn't quite come off," the Town boss said, "but overall I'm quite pleased."
"Saturday is the test, though. So we'll all have to wait and see on the day."