Date added: 28 August 2007
Sturrock still hopeful of signing new striker
Paul Sturrock may be frustrated by the looming end to the transfer window - but he was still all smiles today
.
Quite why the Town boss was in such a good mood, he wasn't letting on, but talking to SwindonWeb, the Town boss told us of his disappointment at not clinching the signing of two key targets - one of which is believed to be Wycombe Wanderers striker Jermaine Easter - with just three days to go before deadline day.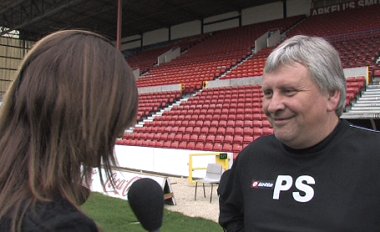 CLOSING IN?
full interview with Paul Sturrock
But, after seeing his side remain unbeaten at the weekend, Sturrock still believes that before Friday he can seal a deal.
"It's been my most frustrating period as a manager, no question," he said, "but I'm as confident as I can be that I can attract the players we need."
Town host Crewe on Saturday.