Date added: 02 March 2011
BREAKING NEWS: Wilson resigns
UPDATE: Paul Hart appointed Town manager until the end of the season - Shirtliff leaves
Former Portsmouth and Crystal Palace manager Paul Hart has been put in charge until the end of the season.
Chairman Andrew Fitton said:
"Paul has been in the situation of having to rescue a club from the throes of relegation – the first time at Portsmouth in 2008-09 and also at Crystal Palace in 2009-10 when he was charged with keeping the club up with 14 matches to go, having had 10 points deducted in mid-season.
"Paul has been selected because of his experience in guiding teams away from the relegation zone, something that Swindon [are] determined to do.

"There are 13 games left to achieve this objective and so time is not on our side for any experimentation. We had to go for experience. Paul will begin immediately and will be deciding on his support team in due course."
It has also been confirmed that Danny Wilson's assistant manager Peter Shirtliff has also left the club.
Manager walks after crisis meeting with the Board
02 March 2011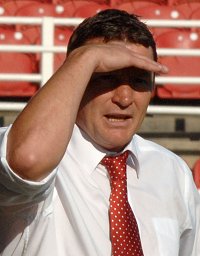 SwindonWeb can confirm that Danny Wilson is no longer manager of Swindon Town Football Club.
After a crisis meeting held at the County Ground today, the Board and Wilson came to an agreement for him to resign with immediate effect.
Commenting on the decision, Wilson said:
"After conversations with the Chairman, where the club's current performance and current league position were discussed in detail, it was agreed that offering to resign would allow the Board an opportunity to appoint a new manager while there are still sufficient games left this season for this club to be able to pull clear of the relegation zone."
Play-offs to relegation zone
After guiding Swindon to the League One Play-off Final last season, Wilson has struggled in charge of a team currently in the bottom four after no win in eleven games.
SwindonWeb understands Wilson, however, is still highly regarded in footballing circles, and may already have an opportunity to return to football management.
Chairman Andrew Fitton has commented that Wilson's successor will be appointed in the next 24 hours.
"A proven, senior manager whose prime responsibility will be to ensure our League One survival by the end of the season," Fitton said.
2011/12 STFC Fixtures
New manager, new league, new fixtures! - UPDATE: OXFORD GAMES CHANGED...

24 June 2011

Swindon Town Spoof
Hilarious! Hitler's 'reaction' to Swindon's relegation - WATCH VIDEO (warning: contains bad language)...

Crisis Meeting
Hart close to walking after fans' fury and Fitton post-match 'discussion' - WATCH SWTV FANS' VIEW...

'Still Optimistic'
Exeter 1 Swindon 0 - 1/25 to go down, but Hart refuses to throw in the towel after disappointing defeat...

29 March 2011

Brighton 2 Swindon 1
Prutton wonder strike and penalty save still not enough as gap to safety increases to seven...

26 March 2011

Where now, boss?
Unlucky thirteen. Ex-Robin Fallon sends Town to the bottom of League One...

08 March 2011

Hart and Soul
Chairman & new manager promise to give their all in relegation fight - SWTV...

Swindon 0 Exeter 0
Austin sorely missed as Town draw a home blank again - WATCH SWTV FANS' VIEW...

Swindon 0 Tranmere 0
Austin misses a penalty as Town stop the rot - WATCH FANS' VIEW (incl. no sexist remarks!)...

Swindon 0 Yeovil 1
Rose off, Morrison gone, Austin unsettled + Town down to 19th - WATCH SWTV FANS' VIEW...

Bad Day For Wilson
Charlie still a Town player for now - but Morrison Reading-bound...

14 January 2011

Oldham 2 Swindon 0
Wilson 'frustrated' as Town crash back down to earth...

08 January 2011

Swindon 1 Bournemouth 2
Boos at the final whistle as lucklustre Town make poor start to the new year...

01 January 2011

Game On!
Swindon Town v Sheffield Wednesday beats the cold...

03 December 2010

Yeovil 3 Swindon 3
Gloom turns to joy as Town earn draw with two goals in last five minutes...

30 October 2010

Swindon 2 Orient 2
Ref blasted as Town struggle to find home form - WATCH SWTV FANS' VIEW....

Swindon 2 Torquay 0
Ball and Pericard on target as Town progress to round three...

05 October 2010

Walsall 1 Swindon 2
Pericard nets first League goal for Town as climb up the table continues...

18 September 2010

Carlisle 0 Swindon 0
Wilson pleased despite Austin missing a last-minute sitter...

04 September 2010

Swindon 1 Brighton 2
Slow starting Town punished by well-organised Brighton - WATCH SWTV FANS' VIEW...

Town's new trio
Three latest signings for Swindon unveiled...

04 August 2010