Date added: 16 April 2011
Swindon 0 MK Dons 1
Npower League One
RESULT: Swindon Town 0 Milton Keynes Dons 1
MK Dons scorer: O'Hanlon 17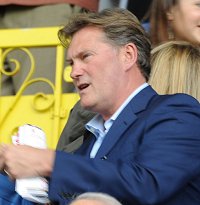 Back at the County Ground:
Glenn Hoddle
Glen Hoddle looked on as former Robin Sean O'Hanlon left Town needing a miracle.
The MK Dons defender was on target with a free header from a corner after 17 minutes as Swindon struggled to get going.
Hoddle in the stands as the guest of chairman Andrew Fitton, as the Swindon board plan ahead to the likelyhood of next season in League Two.
The match eventually turned nasty with assistant manager McParlane sent from the dugout for a touchline altercation and Andy Frampton seeing red with ten minutes to go.
But after another display lacking an attacking threat, Paul Hart accepted his team weren't at their best.
"It's disappointing because I felt we had chance here today to put pressure on the sides around us who all lost," he commented.
"It's going to be even harder for us."
Town face fellow strugglers Notts County next Saturday still five points from safety.
The bottom of League One
18 Tranmere 41 -11 49
19 Dag & Red 42 -14 44
20 Walsall 42 -19 43
---------------------------
21 Bristol Rovers 42 -32 43
22 Notts County 41 -15 42
23 Swindon 42 -19 38
24 Plymouth 41 -19 36
REMAINING GAMES:
Notts County (H)
Saturday, 23 April 2011, 3:00pm
Npower League One
Sheffield Wed (A)

Monday, 25 April 2011, 7:45pm
Npower League One
Oldham (H)

Saturday, 30 April 2011, 3:00pm
Npower League One
Tranmere (A)

Saturday, 07 May 2011, 3:00pm
Npower League One
2011/12 STFC Fixtures
New manager, new league, new fixtures! - UPDATE: OXFORD GAMES CHANGED...

24 June 2011

Swindon Town Spoof
Hilarious! Hitler's 'reaction' to Swindon's relegation - WATCH VIDEO (warning: contains bad language)...

Crisis Meeting
Hart close to walking after fans' fury and Fitton post-match 'discussion' - WATCH SWTV FANS' VIEW...

'Still Optimistic'
Exeter 1 Swindon 0 - 1/25 to go down, but Hart refuses to throw in the towel after disappointing defeat...

29 March 2011

Brighton 2 Swindon 1
Prutton wonder strike and penalty save still not enough as gap to safety increases to seven...

26 March 2011

Where now, boss?
Unlucky thirteen. Ex-Robin Fallon sends Town to the bottom of League One...

08 March 2011

Hart and Soul
Chairman & new manager promise to give their all in relegation fight - SWTV...

Swindon 0 Exeter 0
Austin sorely missed as Town draw a home blank again - WATCH SWTV FANS' VIEW...

Swindon 0 Tranmere 0
Austin misses a penalty as Town stop the rot - WATCH FANS' VIEW (incl. no sexist remarks!)...

Swindon 0 Yeovil 1
Rose off, Morrison gone, Austin unsettled + Town down to 19th - WATCH SWTV FANS' VIEW...

Bad Day For Wilson
Charlie still a Town player for now - but Morrison Reading-bound...

14 January 2011

Oldham 2 Swindon 0
Wilson 'frustrated' as Town crash back down to earth...

08 January 2011

Swindon 1 Bournemouth 2
Boos at the final whistle as lucklustre Town make poor start to the new year...

01 January 2011

Game On!
Swindon Town v Sheffield Wednesday beats the cold...

03 December 2010

Yeovil 3 Swindon 3
Gloom turns to joy as Town earn draw with two goals in last five minutes...

30 October 2010

Swindon 2 Orient 2
Ref blasted as Town struggle to find home form - WATCH SWTV FANS' VIEW....

Swindon 2 Torquay 0
Ball and Pericard on target as Town progress to round three...

05 October 2010

Walsall 1 Swindon 2
Pericard nets first League goal for Town as climb up the table continues...

18 September 2010

Carlisle 0 Swindon 0
Wilson pleased despite Austin missing a last-minute sitter...

04 September 2010

Swindon 1 Brighton 2
Slow starting Town punished by well-organised Brighton - WATCH SWTV FANS' VIEW...

Town's new trio
Three latest signings for Swindon unveiled...

04 August 2010