Date added: 23 April 2011
Crisis Meeting
Hart close to walking after fans' fury and Fitton post-match 'discussion'
Npower League One
RESULT: Swindon Town 1 Notts County 2
Swindon scorer: Ritchie 18
Notts County: Judge 78, Hughes 85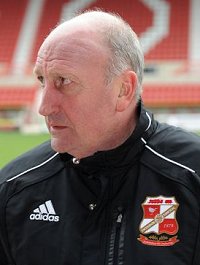 Decision time:
Paul Hart
Town fans vented their frustration at the final whistle after Lee Hughes' late strike almost certainly means League Two football at the County Ground next season.
Supporters booed and started walking out just after watching Notts County wrap up an unlikely comeback following a defensive mix up.
Some ripped up their season tickets and targeted abuse at manager Paul Hart - with allegations that a member of staff on the Town bench swore back at fans.
After speaking to his players at full-time an angry Hart was immediately called in to a meeting with chairman Andrew Fitton where plans for next season were discussed.
But the Town boss refused to divulge the details of what was said except to confirm he was contemplating his own future as manager.
"I'll be making a decision this weekend," he admitted after criticising the Swindon fans who had sworn at him.
"It was disgraceful behaviour, the like of which I've never experienced at a game before."
All that after Swindon were one-up with 12 minutes to go and looking good for all three valuable points.
Matt Ritchie had earlier given the Robins a first-half lead, with captain James Douglas twice denied a second due the woodwork.
But when Ritchie was replaced by Timlin late-on, the timing couldn't have been worse as Notts County almost immediately equalised - then found the winner from veteran striker Lee Hughes.
The first when a free-kick from Alan Judge eluded everyone and was misjudged by Dave Lucas.
The decider after Scott Cuthbert got caught in possession and watched agonisingly as Hughes nipped in and rounded the keeper.
Town can now only catch Dagenham & Redbridge with just three games to go.
The bottom of League One
17 Yeovil 43 -14 52
18 Tranmere 43 -12 50
19 Notts County 43 -13 48
20 Dag & Red 43 -15 44
----------------------------
21 Walsall 43 -19 44
22 Bristol Rovers 43 -32 44
23 Plymouth 42 -18 39
24 Swindon 43 -20 38
REMAINING GAMES:
Sheffield Wed (A)

Monday, 25 April 2011, 7:45pm
Npower League One
Oldham (H)

Saturday, 30 April 2011, 3:00pm
Npower League One
Tranmere (A)

Saturday, 07 May 2011, 3:00pm
Npower League One
2011/12 STFC Fixtures
New manager, new league, new fixtures! - UPDATE: OXFORD GAMES CHANGED...

24 June 2011

Swindon Town Spoof
Hilarious! Hitler's 'reaction' to Swindon's relegation - WATCH VIDEO (warning: contains bad language)...

'Still Optimistic'
Exeter 1 Swindon 0 - 1/25 to go down, but Hart refuses to throw in the towel after disappointing defeat...

29 March 2011

Brighton 2 Swindon 1
Prutton wonder strike and penalty save still not enough as gap to safety increases to seven...

26 March 2011

Where now, boss?
Unlucky thirteen. Ex-Robin Fallon sends Town to the bottom of League One...

08 March 2011

Hart and Soul
Chairman & new manager promise to give their all in relegation fight - SWTV...

Swindon 0 Exeter 0
Austin sorely missed as Town draw a home blank again - WATCH SWTV FANS' VIEW...

Swindon 0 Tranmere 0
Austin misses a penalty as Town stop the rot - WATCH FANS' VIEW (incl. no sexist remarks!)...

Swindon 0 Yeovil 1
Rose off, Morrison gone, Austin unsettled + Town down to 19th - WATCH SWTV FANS' VIEW...

Bad Day For Wilson
Charlie still a Town player for now - but Morrison Reading-bound...

14 January 2011

Oldham 2 Swindon 0
Wilson 'frustrated' as Town crash back down to earth...

08 January 2011

Swindon 1 Bournemouth 2
Boos at the final whistle as lucklustre Town make poor start to the new year...

01 January 2011

Game On!
Swindon Town v Sheffield Wednesday beats the cold...

03 December 2010

Yeovil 3 Swindon 3
Gloom turns to joy as Town earn draw with two goals in last five minutes...

30 October 2010

Swindon 2 Orient 2
Ref blasted as Town struggle to find home form - WATCH SWTV FANS' VIEW....

Swindon 2 Torquay 0
Ball and Pericard on target as Town progress to round three...

05 October 2010

Walsall 1 Swindon 2
Pericard nets first League goal for Town as climb up the table continues...

18 September 2010

Carlisle 0 Swindon 0
Wilson pleased despite Austin missing a last-minute sitter...

04 September 2010

Swindon 1 Brighton 2
Slow starting Town punished by well-organised Brighton - WATCH SWTV FANS' VIEW...

Town's new trio
Three latest signings for Swindon unveiled...

04 August 2010