Date added: 25 May 2011
Who's been offered a contract?
Jean-Francois, Timlin, Scott and Thompson all offered one-year deals
Swindon Town interim chairman Jeremy Wray has confirmed the club have so far made one-year contract offers to the following four players:
Lecsinel Jean-Francois, Michael Timlin, Mark Scott and Nathan Thompson
.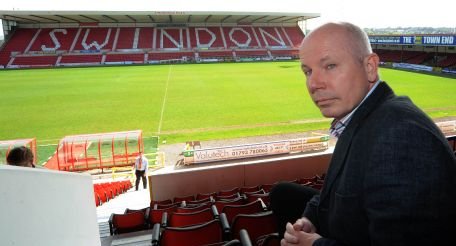 Planning for next season:

Commenting on the news, Wray said: "By offering contracts to Mark Scott and Nathan Thompson, it is evidence of the club's desire to develop its younger players who may not have had the best opportunity to flourish last season."
The club will put out a further statement on those players who are out of contract or who have contract options, in the ensuing days.

David Lucas, Paul Caddis, Jon-Paul McGovern, Simon Ferry, Phil Smith, Kevin Amankwaah, Aden Flint, Callum Kennedy, Matt Ritchie, Elliot Benyon, Billy Bodin, Jordan Pavett and Will Evans remain under contract with the club.

Abdul Said and Matt Clark have been offered six month professional contract terms whilst Miles Storey will begin the 2011/12 season as a second-year youth team scholar.
David Prutton is one of two players already to have left the club in the wake of relagtion to League Two.
2011/12 STFC Fixtures
New manager, new league, new fixtures! - UPDATE: OXFORD GAMES CHANGED...

24 June 2011

Swindon Town Spoof
Hilarious! Hitler's 'reaction' to Swindon's relegation - WATCH VIDEO (warning: contains bad language)...

Crisis Meeting
Hart close to walking after fans' fury and Fitton post-match 'discussion' - WATCH SWTV FANS' VIEW...

'Still Optimistic'
Exeter 1 Swindon 0 - 1/25 to go down, but Hart refuses to throw in the towel after disappointing defeat...

29 March 2011

Brighton 2 Swindon 1
Prutton wonder strike and penalty save still not enough as gap to safety increases to seven...

26 March 2011

Where now, boss?
Unlucky thirteen. Ex-Robin Fallon sends Town to the bottom of League One...

08 March 2011

Hart and Soul
Chairman & new manager promise to give their all in relegation fight - SWTV...

Swindon 0 Exeter 0
Austin sorely missed as Town draw a home blank again - WATCH SWTV FANS' VIEW...

Swindon 0 Tranmere 0
Austin misses a penalty as Town stop the rot - WATCH FANS' VIEW (incl. no sexist remarks!)...

Swindon 0 Yeovil 1
Rose off, Morrison gone, Austin unsettled + Town down to 19th - WATCH SWTV FANS' VIEW...

Bad Day For Wilson
Charlie still a Town player for now - but Morrison Reading-bound...

14 January 2011

Oldham 2 Swindon 0
Wilson 'frustrated' as Town crash back down to earth...

08 January 2011

Swindon 1 Bournemouth 2
Boos at the final whistle as lucklustre Town make poor start to the new year...

01 January 2011

Game On!
Swindon Town v Sheffield Wednesday beats the cold...

03 December 2010

Yeovil 3 Swindon 3
Gloom turns to joy as Town earn draw with two goals in last five minutes...

30 October 2010

Swindon 2 Orient 2
Ref blasted as Town struggle to find home form - WATCH SWTV FANS' VIEW....

Swindon 2 Torquay 0
Ball and Pericard on target as Town progress to round three...

05 October 2010

Walsall 1 Swindon 2
Pericard nets first League goal for Town as climb up the table continues...

18 September 2010

Carlisle 0 Swindon 0
Wilson pleased despite Austin missing a last-minute sitter...

04 September 2010

Swindon 1 Brighton 2
Slow starting Town punished by well-organised Brighton - WATCH SWTV FANS' VIEW...

Town's new trio
Three latest signings for Swindon unveiled...

04 August 2010